Surprise party honors Sheridans for 60th jubilee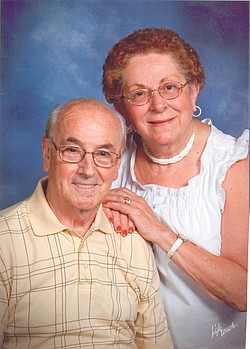 Photo
Mr. and Mrs. Bill Sheridan
STRUTHERS
The sons of Mr. and Mrs. Bill Sheridan of Struthers honored their parents for their 60th wedding anniversary with a surprise dinner party at the Springfield Grille in Boardman.
Hosting the Aug. 31 event were Bill and Katie Sheridan of Frederick, Md.; and James Sheridan, and Michael and Kathleen Sheridan, all of Boardman.
The Sheridans also have five grandchildren.
Mrs. Sheridan, the former Lee Bernard, is a homemaker and a member of Holy Family Church.
Mr. Sheridan, a veteran of the U.S. Air Force, retired in 1984 after 28 years with LTV Steel in Campbell.
The Sheridans were married Aug. 29, 1953, at St. Patrick Church in Youngstown.