Mr., Mrs. Scahill mark 50th jubilee at family dinner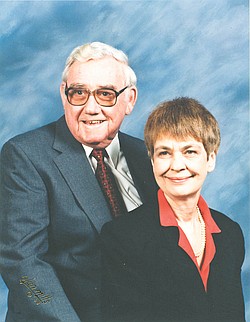 Photo
Mr. and Mrs. Robert Scahill
NEW MIDDLETOWN
A celebratory dinner at the Springfield Grille in boardman honored Mr. and Mrs. Robert Scahill of New Middletown for their 50th wedding anniversary.
The couple's son, Paul Scahill, and his wife, Eileen, of Upper Arlington, Ohio, hosted the dinner Sept. 14. The Scahills also have a grandson, Nicholas.
The former Germaine Vimmerstedt and Mr. Scahill were married Sept. 14, 1963, at St. Columba Cathedral in Youngstown.
The couple are members of St. Paul the Apostle Church.
Mr. Scahill worked for Wean United and retired in 1998 from the circulation department at The Vindicator. He was a charter member and past president of the Mahoning Valley Gaelic Society. A U.S. Air Force veteran, Mr. Scahill served from 1953 to 1957.
Mrs. Scahill had worked in advertising for Strouss and Kaufmann's and retired in 2010 as CCD secretary at St. Paul's.