Barbones mark 50th anniversary at family party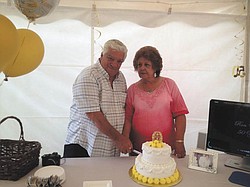 Photo
Mr. and Mrs. Ronald Barbone
LAKE MILTON
Mr. and Mrs. Ronald Barbone of Lake Milton were honored for their 50th wedding anniversary with a party at their residence.
Hosting the event were their children, Pam (Ken) Cook of Stow, Ohio; Kim Shuttleworth of Austintown; Ron (Patty) Barbone of Boardman; Nicole Morrison of Austintown; and Monica (Tim) Shuttleworth of Xenia, Ohio. Their grandchildren are Kaitlyn, Brandon, Ryan, Nicholas, Johnny, Zack, Courtney and Sydney.
The former Patricia Jeswald and Mr. Barbone were married Aug. 31, 1963, at St. Brendan Church in Youngstown.
Mrs. Barbone worked for Packard Electric and Tamco Disributors before retiring in 2002. Mr. Barbone worked for Copperweld Steel in Warren and retired in 2001 as a millwright after 42 years of service.