Tornadoes roar to blow out Cards
By Tom Williams
Dover vs Canfield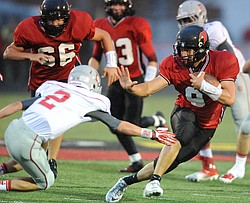 Gallery
CANFIELD
Jumping out to an 11-point lead late in the second quarter, the Canfield High football team appeared poised for a third shootout win over Dover in five seasons.
But the Tornadoes' offense roared in the game's final 25 minutes, scoring 40 unanswered points for Friday's 53-24 victory.
"When you play Dover, you better bring it for 48 minutes," Canfield head coach Mike Pavlansky said. "We were there for 24. We've got to figure out how it slipped away in the second half."
Dover quarterback Kyle Abel passed for 419 yards, completing 22-of 32 passes. Shay Smith caught nine of them for 201 yards and touchdowns covering 77 and 32 yards. Cory Contini hauled in eight passes for 171 yards and scores covering 56 and 9 yards.
Next week, the Tornadoes (3-0) will play Fitch in Austintown.
Canfield all-purpose back Kimu Kim rushed 24 times for 191 yards and passed for 62 more.
"On the first half, we were physical all the way around," Kim said. "It comes down to we wanted it, but we just didn't have enough."
Dover coach Dan Ifft said the difference in the second half was the Tornadoes getting all the breaks and taking advantage them for five touchdowns.
"Mike has a lot of kids who play both ways and I think they got tired," Ifft said. "They played hard — Mahoning County football is hard-nosed football.
"And we got a couple of breaks," said Ifft whose coaching career began at Austintown Fitch 30-some years ago. "Things didn't go our way in the first half. They got the amazing play by their quarterback, they got the fumble [recovery]."
The wild second quarter began with Cardinals kicker Bryan Kristan's 42-yard field goal. Contini followed with a 9-yard scoring reception that put the Tornadoes back in front, 13-10.
The Cardinals (0-3) surged with a wild play that began with Kim scrambling to the sideline then flinging the ball to Aaron Jenkins around the Dover 30. Jenkins circled away from coverage then ran through the middle for a 57-yard touchdown.
"I was just rolling out hoping to find a receiver," Kim said. "When I thought I did, I just threw it out there. I saw an open area and I was hoping her would make a play."
On the Tornadoes' next possession, Jordan Mills caught an Abel pass, rambled to midfield then was stripped of the ball by Cards cornerback Drew Rogers. Cameron Tareshawty fell on the fumble.
Six plays later, Kim ran 4 yards to the end zone, fumbled and Rogers recovered to give Canfield a 24-13 lead.
"We felt offensively we matched up well, that if we could get the ball enough we'd be OK," Ifft said. "[They] did a good job trying to keep the ball away from us."
On the next offensive play, the Tornadoes struck when Smith caught a short pass, broke two tackles then sprinted for a 77-yard score.
"At halftime, we weren't panicked, but we were disappointed in the way we were playing defense," Ifft said. "We needed to get a couple of stops."
In the third quarter, Abel completed all nine of his passes for 155 yards as the Tornadoes scored three times for a 39-24 lead.
"It just snowballed on us," said Pavlansky, referring to a fumble and interception that stopped Canfield drives. "It started on the last series of the first half where we gave up a big play for a touchdown. It seemed we couldn't recover from that mental lapse."