Melissa Yatsco and Chad Knapp will wed Oct. 11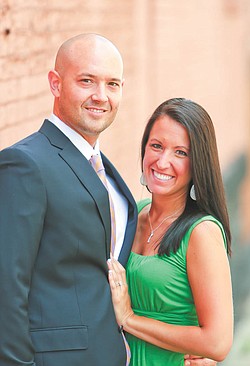 Photo
Chad A. Knapp and Melissa L. Yatsco
Planning to exchange wedding vows Oct. 11 are Oklahoma City residents Melissa Lynn Yatsco, formerly of Poland, and Chad Anthony Knapp, formerly of Columbiana.
Charlene and Richard Yankel of Poland, and Paul Yatsco of Canfield, the parents of the bride-to-be, are announcing the engagement. The prospective groom is the son of the late Dorothy Ann Vest.
The couple's marriage will be solemnized in a ceremony at Stambaugh Auditorium, Youngstown. A reception will follow at The Lake Club in Poland. Invitations have been extended for both occasions.
Miss Yatsco, a graduate of Youngstown State University, achieved a bachelor's degree in business management. She is employed by Cars.com as a digital sales representative in Oklahoma City.
Mr. Knapp attends the University of Oklahoma in pursuit of a master's degree in business administration. He served in the U.S. Army.