Senior running back lifts Poland past Boardman
Senior running back lifts Poland past Boardman
By joe Scalzo
Boardman vs Poland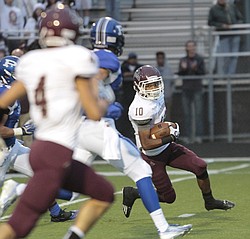 Gallery
Poland
The Poland High football team may be 3-0 after its first game against Boardman since 1986, but a problem has emerged for Bulldogs coach Mark Brungard.
"We don't have enough footballs," he said following Friday's 42-14 win over the visiting Spartans. "It's a good problem to have.
"Right now, everyone is being unselfish and as long as we stay that way, we'll be fine."
Senior running back Ross Gould ran 23 times for 207 yards and three touchdowns for Poland, which outscored the Spartans 21-0 in the fourth quarter to pull away. After falling behind 14-7 in the first quarter, Poland used its size and depth advantage to wear down Boardman, racking up 340 yards rushing on 47 carries.
"Everyone just executed everything tonight," Gould said. "The line opened great holes, the receivers blocked good and the coaching staff did great."
Marlon Ramirez added 51 yards rushing and quarterback Jake Wolfe added 36 yards rushing (26 came on a touchdown run midway through the fourth quarter) and 63 yards passing. Tyler Evan and Anthony Audi also rushed for touchdowns as eight different Bulldogs got at least one carry.
"We've got some good blockers but they're [the Spartans] a little smaller up front and I think their numbers kind of worked in our favor," Brungard said. "We kind of wore them down."
Boardman (0-3) got off to a fast start — literally — when speedy wideout Turel Thompson took the first offensive play 36 yards down the right sideline. The Spartans capped that five-play, 71-yard drive with a 1-yard TD run by Isaiah Lyle, then added another 1-yard TD by Darius Sanders at the end of the first quarter.
"We opened up our first two games on the defensive side of the ball and didn't do a very good job of stopping people, so I wanted to pose a challenge to my team to get off to a fast start," Boardman coach Joe Ignazio said. "And we did that. But it still comes down to not doing a very good job on the defensive side of the ball."
After the first quarter, the Bulldogs adjusted to Boardman's speed and held the Spartans to just two first downs over the final three quarters, with Evan adding two interceptions.
Thompson finished with three catches for 64 yards and blocked a field goal, while Dawan Britt led Boardman on the ground with two carries for 40 yards.
"We knew we were going to have to weather a storm with playing at the level of speed they have," Brungard said. "We haven't seen that kind of speed.
"It took awhile and we gave up some scores but we made some adjustments. I credit our defense and our coaches just doing the little things we have to do."
Friday's game was Poland's first against an area opponent after wins over Alliance Marlington and Canal Fulton Northwest.
The game's rarity, and the teams' proximity, made for a special night.
"I'd be lying if I said this wasn't a unique opportunity," Brungard said. "It's a neighboring team and our kids know their kids from little league on up.
"We knew this day was coming and we took advantage of it."