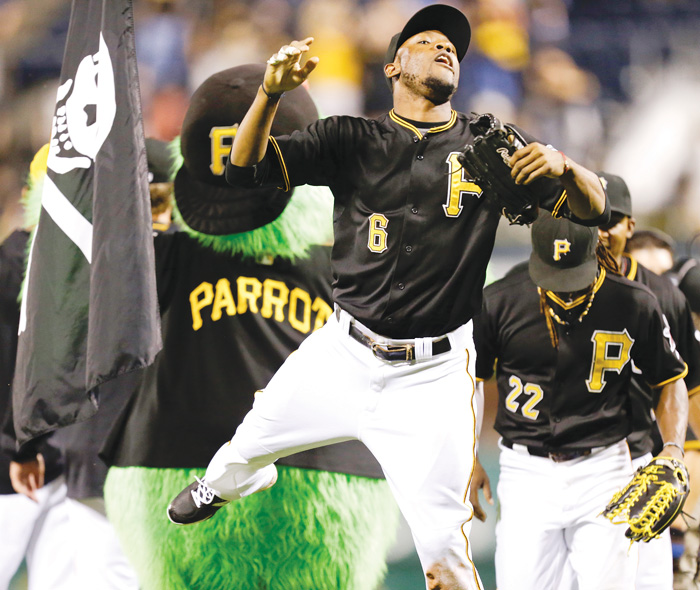 ---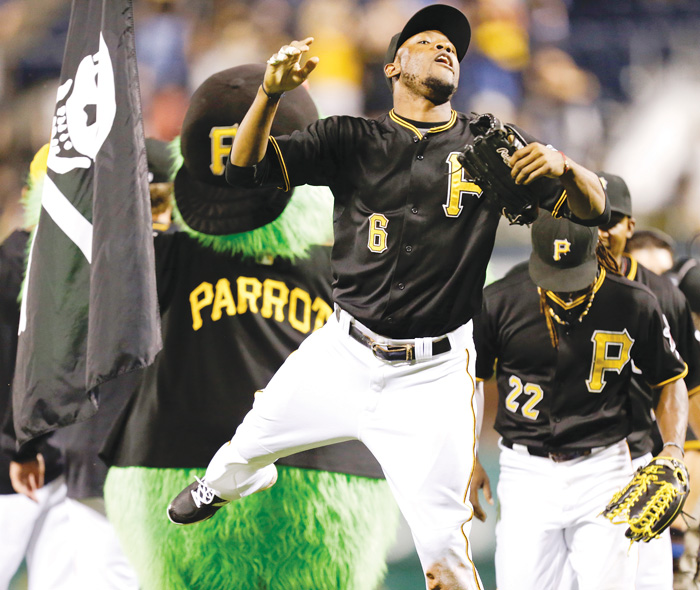 Photo
Pirates left fielder Starling Marte (6) celebrates Pittsburgh's 3-1 win over the Chicago Cubs as he heads for the dugout after Thursday's game in in Pittsburgh.
Locke tames Cubs bats; Mercer hits RBI double
Associated Press
Ptttsburgh
Jeff Locke insists he didn't need a confidence boost after a late summer swoon. A return to basics and a little help from his teammates provided one anyway.
Flashing the form that made him a surprise All-Star in July, Locke allowed three hits over seven innings to earn his first victory in nearly two months as the Pittsburgh Pirates beat the Chicago Cubs 3-1 on Thursday night to climb back into a first-place tie with St. Louis.
"Nothing's really changed with me mentally," Locke said. "I still try to go out and be aggressive. Tonight was an example of everything working out the way you'd like it to."
Locke (10-5) struck out five and walked one to help the Pirates win their fourth straight. Mark Melancon worked out of a two-on, none-out jam in the ninth for his 14th save.
Jordy Mercer went 2 for 4 with an RBI double for Pittsburgh. Marlon Byrd and Pedro Alvarez each added an RBI single for the Pirates, who hardly appear content with their first winning season in 21 years.
Pittsburgh crossed the 82-victory plateau on Monday night in Texas and followed it up with two more wins in a sweep of the Rangers. Locke and some stellar defense kept it going against Chicago.
First baseman Justin Morneau saved at least one run with a snow-cone catch in the fourth. Mercer tossed in a spectacular jump throw from deep shortstop to end the sixth, and Gold Glove center fielder Andrew McCutchen laid out to take away a sinking line drive off the bat of Junior Lake in the seventh.
"I already told 'Cutch that as a pitcher you see a lot of balls go over your head and you see him and you say there's no way he can close that gap," Locke said. "Before you know it, he's belly-up with the ball in his glove. Unbelievable play."
The Pirates needed Locke to be sharp after Chicago's Chris Rusin continued his impressive run. Rusin (2-4) gave up two runs and four hits in seven innings for the Cubs, looking every bit like a player who plans to be on the opening day roster next spring.
It was the kind of performance that Locke put up regularly during the first half. Yet he entered Thursday winless since beating Cincinnati on July 21. He struggled through August and never worked more than 5 2/3 innings in any start as his ERA slowly rose from 2.11 to 3.23.
Despite fighting control issues, Locke stressed he wasn't fatigued and appeared to find something last week against St. Louis, giving up just two earned runs while battling through five innings. He carried it forward against the Cubs, who were coming off an impressive series win against the Reds.
"It was intent, conviction and execution," Pittsburgh manager Clint Hurdle said. "All three of them were covered off the mound tonight by Jeff."
The Pirates were given a long ovation when they walked onto the field, as a crowded PNC Park in mid-September — a rarity over the last two decades — let a generation of frustration out in 30 seconds of pure joy.
"It was pretty impressive to get a standing ovation like that just to hit the 82 mark," Mercer said. "We've still got a lot of work left to do. There's unfinished business."