Esbenschade speaks at Rotary meeting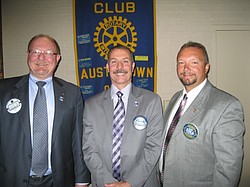 Photo
Neighbors | Submitted.Shown, from left, are (new member) Installing officer Chuck Baker, John Mashiska, and President Mark Cole at the recent Austintown Rotary meeting featuring gues speaker Debbie Esbenschade.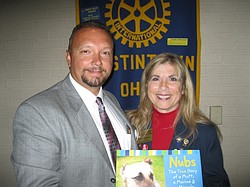 Photo
Neighbors | Submitted.District Governor Debbie Esbenschade (right) was the guest speaker at a recent Austintown rotary neeting. She is shown with Austintown Rotary President Mark Cole.
Debbie Esbenschade, new District Governor of Rotary District 6650, was the guest speaker at the Sept. 9 meeting of the Rotary Club of Austinown. She is a Canfield and YSU graduate, and feels an attachment for the Austintown club due to many visits. She is a Vice President with Modern Builders Corp. in Youngstown, and was the proud first female President of the Youngstown Rotary, joining in 1991. She is also involved with Easter Seals.
When asked one word to describe Rotary, she chose CATALYST, indicating the organization constantly encourages members to step beyond their comfort zone and make change happen. The international theme for Rotary was chosen by International President Ron Burton, stressing "Engage Rotary, Change Lives" as a way to make each member feel involved and needed by their club. Her goals for this year include new membership gain of one per club, district wide participation in a hearing project in Dominica led by Sheryl Figliano, district participation in Operation Warm which offers new coats to children in need, and support for Polio Plus.
Another special moment at the meeting was the induction of new member John Mashiska of Austintown, who is working with the township finance office after many years with the State Auditor's Office. A Fitch graduate, Mashiska looks forward to new ways to serve his community and world. His sponsor is Gary Reel.
More like this from vindy.com