Dobbins Elementary welcomes new principal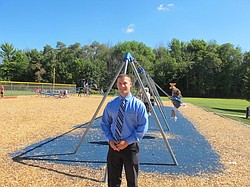 Photo
Neighbors | Adrienne Crissman.Michael Daley was named as the new principal of Dobbins Elementary School.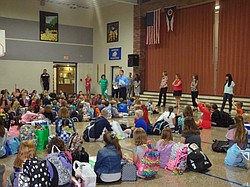 Photo
Neighbors | Submitted .To start off the day, principal Daley read "Pete the Cat:Rocking in My School Shoes" to the students at Dobbins Elementary School Sept. 4.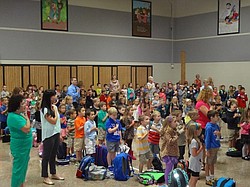 Photo
Neighbors | Submitted .Principal Daley, along with the staff and students at Dobbins Elementary School, recited the "Pledge of Allegiance" on Sept. 4 before starting the school day.
By ADRIENNE CRISSMAN
Poland Dobbins Elementary school welcomed it's new principal, Michael Daley, with enthusiasm.
Daley graduated from Walsh University in 2001 with a degree in AYA Language Arts. In 2002, he went on to teach English at Poland Seminary High School, after teaching for the Mahoning County Educational Service Center's Adams Alternative Program in a self-contained ED unit. In 2005, Daley received his Master of Science in Educational Administration from Youngstown State University, and in 2007 completed the YSU Principal Licensure Program. He then went on to an administrative role at Poland Seminary High School.
Daley is grateful for his new role.
"I am so fortunate to come into this situation," said Daley. "I have been a part of a great administrative team and Mrs. Borovitcky was gracious in helping me transition in through the month of June."
Daley has plans for his new position.
"My first personal goal is to gain the trust of the students, families and staff, and to be an open communicator while ensuring that Dobbins is a safe, warm school with high expectations," said Daley. "[I plan] to reach out to our families and really tap into the amazing talents and energy that our community has to offer to our children collectively."
Daley emphasized that working together is key.
"It is our job to work together - students, parents, teachers, administrator, and support staff - to help each child grow academically, emotionally and socially," said Daley.
Kevin Snyder, principal at Poland Seminary High School, said Daley's strengths are his leadership skills, his character and his caring nature.
"He has always led with his heart," said Snyder. "He always puts the kid's first, and has taken an interest in each individual one."