Boys cross country run at Frank Gibas Invitational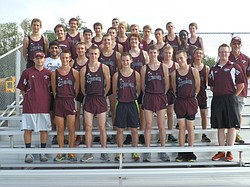 Photo
Neighbors | Submitted .The Boardman High School boys cross country team competed in the Frank Gibs Invitational at Kenston High School on Sept. 5.
Senior Mark Hadley took first overall out of 160 runners Sept. 5 at the first ever Frank Gibas Invitational at Kenston High School in Chagrin Falls. Hadley's time of 15:52 sets the bar high as the all time record for the invitational.
"This was really a great honor to be asked by Kenston to compete at their first ever invitational," said Boardman head coach John Phillips, "The coaches, parents and athletes at Kenston are first class."
The Spartans finished first out of nine schools, improving their varsity season mark to 26-0 overall. Aiding in Boardman's score was senior Alan Burns at 16:23, which was good enough for second overall. He was followed by sophomore Nathan Hadley at 16:33 which earned the Spartan runner fourth place. Seniors Justin Maroni and Jacob Kelleck finished seventh and eighth overall in times of 17:06 and 17:33.
"We really had a great day," said Phillips, "Kenston is now in our district so to match up with them today was important and will pay off in October as well."
Also finishing high for the Spartans was junior Nick Long in 22nd place with a time of 17:56 and senior Trevor Leyden at 18:27 which was 29th overall in the race. Setting new personal bests at Kenston were senior Shawn Pregi at 20:26, junior Long, sophomore Tyler Kellam at 20:34, and freshmen Nathaniel Ams at 19:30, Nick DiGiacomo at 21:07 and Josh Jenkins at 21:10.
Also setting a new personal best was senior Trevor Leyden at 18:27. Leyden's effort earned the Spartan this weeks BW-3 "Runner of the Week" award.