Mineral Ridge youngster is Pilot for a Day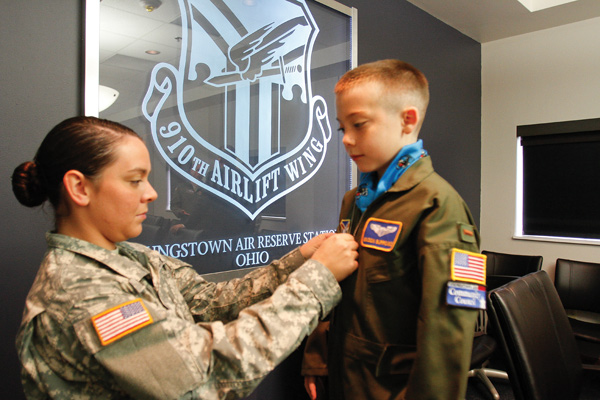 ---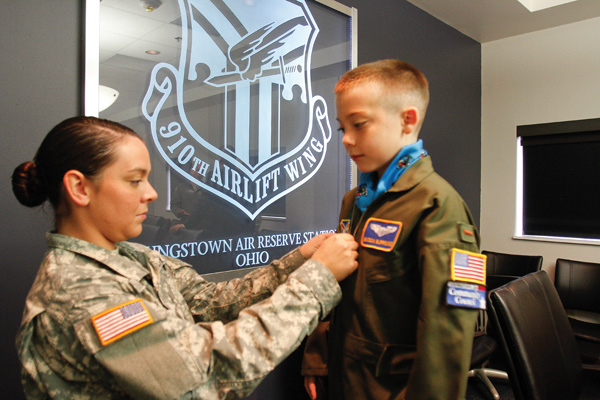 Photo
Pvt. Brandi Burrows with the Army makes sure her brother, Mason Burrows, 9, of Mineral Ridge, looks the part of a second lieutenant in the 910th Airlift Wing at the Youngstown Air Reserve Station in Vienna. Mason was the air reserve station's Pilot for a Day on Wednesday. The program provides a day of activities to children with chronic or life-threatening disease or illness.
Mineral Ridge boy spends day at Air Reserve Station
By Sean Barron
VIENNA
Nine-year-old Mason Burrows' favorite subjects are math and spelling, and for one day, his operative letter and numbers were C-130 — as in the type of plane he helped operate.
"It was pretty fun; I expected it to be fun," the Mineral Ridge boy said nonchalantly, referring to having assisted with taxiing the $35 million Cessna plane around a runway at the Youngstown Air Reserve Station on Wednesday.
His effort was part of the 910th Airlift Wing's Pilot for a Day program, which, in conjunction with Akron Children's Hospital in Boardman, offers children with leukemia, sickle-cell anemia and other chronic or life- threatening illnesses a fun-filled day that includes a variety of military exercises.
Accompanying Mason were his parents, Scott and Christina Burrows, and his sister, Army Pvt. Brandi Burrows, a Youngstown State University sophomore who's stationed in Ravenna.
The program started in June 2000 and has allowed about 55 youngsters such opportunities, noted Maj. Brent Davis of the 910th Airlift Wing. The reserve station hosts four per year, Davis said.
At age 6, Mason, a Seaborn Elementary School fourth-grader, was diagnosed with autoimmune lymphoproliferative syndrome, a rare, inherited disorder in which the immune system typically attacks the body's cells. Common problems associated with ALPS include abnormally low platelet, red- and white-blood cell counts.
About the same time, the boy also was discovered to have an uncommon disorder called Von Willebrand disease, which affects the blood's ability to clot because of too little of a certain protein.
Before sitting in the flight-engineer's seat and putting his navigation prowess to the test, Mason was shown the plane's 41-foot-long cargo area and got to see how cargo is loaded, unloaded and dropped.
In addition, Master Sgt. Tim Frease, a flight engineer and 13-year Youngstown firefighter, gave Mason a brief explanation regarding some aspects of the instrument panels, throttles and switches. Mason also learned that the plane had about 36,000 gallons of fuel, good for roughly five hours of flying.
"Do you know how much fuel you burned? You burned almost 1,000 gallons of fuel there," Frease told the boy after the two helped return the plane.
Before boarding the plane, Mason was sworn in as an Air Force honorary second lieutenant and had his name stenciled above an entrance to the C-130 plane.
He also met 93-year-old Fred Kubli Jr., the YARS Base Community Council's treasurer, who gave the youngster a model C-130 replica.
"I think he's a great little boy," said Kubli, a World War II veteran who was part of the 139th Evacuation Hospital unit that liberated about 50,000 prisoners from an Austrian concentration camp in 1945.
The community council helps fund the program.
Mason also enjoyed a tour that featured seeing life-supply equipment such as a flotation device that holds up to 20 people, as well as smaller ones for children and infants.
"Dad, try it. They're super cool!" Mason said during a demonstration in a darkened room of night- vision goggles as he tried to convince his father to try on a pair.
Christina Burrows said her son receives monthly treatments for his disorders and that she greatly appreciated the day's events for Mason.
"I've been saying since the beginning that we just want to give them a ray of sunshine," Davis said about recruiting candidates for the program. "We care. We simply care about the children."