Former Hubbard standout Drummond leads MSU defense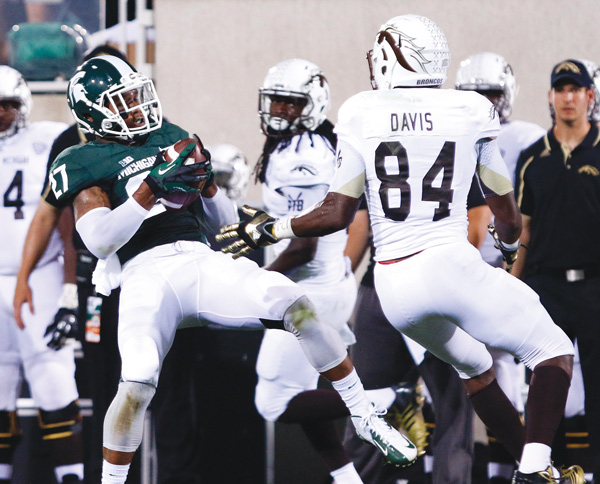 ---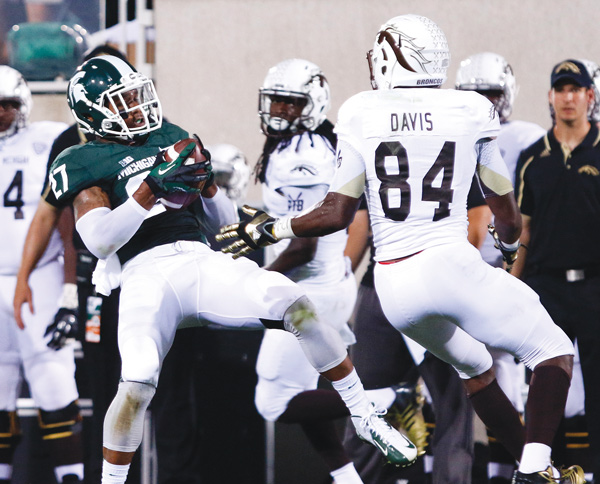 Photo
Michigan State's Kurtis Drummond (27) intercepts a pass in a game against Western Michigan in East Lansing, Mich. Drummond, a former Hubbard High football standout who made his college debut two years ago against YSU, has emerged as one of the best players on one of the best defenses in the country. The Spartans and Penguins meet Saturday at MSU.
Former Hubbard standout
Drummond leads MSU defense
By Joe Scalzo
YOUNGSTOWN
Youngstown State coach Eric Wolford thought Hubbard's Kurtis Drummond was a very good high school football player.
He thinks Drummond is an even better college player.
SDLqI think the biggest compliment you could probably give to Michigan State is the development of him," said Wolford, who tried (and failed) to recruit Drummond to YSU. "What they've done with him as far as developing his body and coaching him and making him a better football player, that's a compliment to their strength staff, to their coaching staff, to their nutrition program.
"That's what you want to have happen in your program. You want players to develop. That's what shows up with him."
Drummond, who made his college debut two years ago against YSU, has emerged as one of the best players on one of the best defenses in the country. The junior free safety is tied for the team lead in tackles (13), scored the Spartans' first touchdown of the year (a 21-yard return off a Jairus Jones' interception-turned-lateral) and made one of Week 1's most electrifying plays with a diving one-handed interception during a 26-13 win over Western Michigan.
"Yeah, I got a lot of texts [about that play] when I got back to the locker room," Drummond said. "I've always said that people are just noticing all the hard work we put in up here as a defense. All offseason we talked about getting to the ball and doing things with it."
MSU's defense has scored four touchdowns — not only does that lead all of FBS, but it's two more than the Spartans' offense has scored — and is allowing just 2.64 yards per play, best in the nation.
"That's a credit to our coaching staff," said Drummond, whose defensive coordinator, Pat Narduzzi, is an Ursuline High graduate who played one year at YSU under his father, Bill. "They come up with great game plans and the guys on the football team are just trying to execute it.
"We're all just trying to eat."
Drummond (6-foot-1, 200 pounds) was a three-year starter at wide receiver and safety at Hubbard, earning first-team All-Ohio honors in 2009.
After redshirting the 2010 season with a shoulder injury, Drummond played in 12 games as a backup safety in 2011, then played in all 13 games last fall, starting seven. He was fifth on the team in tackles (53), intercepted two passes, forced a fumble and recovered one.
"I think I've grown a lot, matured a ton," Drummond said. "I've learned so much about the game of football, from being able to understand how to watch film better to being a better practice player to focusing on technique and understanding it's not just about your athletic ability."
When asked what he gained from playing in the Mahoning Valley, he said, "It taught me hard work. You know football is going to be tough and it ain't going to be easy. And when I came to a university like this, it taught me to be grateful, to be thankful for the opportunity."
YSU quarterback Kurt Hess actually watched Drummond play in high school when he attended a Hubbard game with then-YSU quarterback (and former Eagle) Marc Kanetsky.
"He's a playmaker," Hess said. "He's fast, made a great one-handed interception that one game. He's going to be around the ball. He's a ball hawk and we're going to have to keep our eye on him."
Drummond played sparingly against the Penguins two years ago, mainly on special teams and third-down packages, and is looking forward to the chance to do more this time, even though he knows many of his hometown fans will be rooting for the other side.
"It's a little bit more special this time," he said. "I know my close friends and my family are still in my corner. As long as I've got them and my teammates on my side, I'll be OK."