Automakers bet on alternative-fuel cars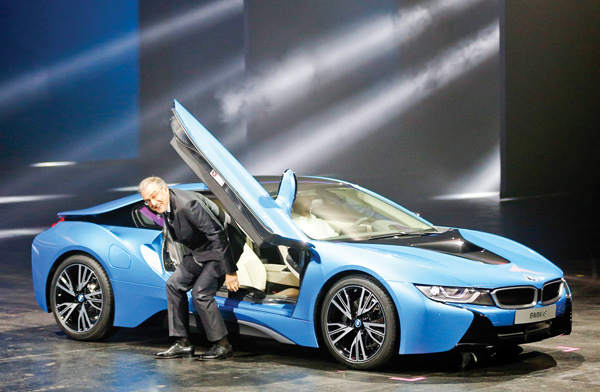 ---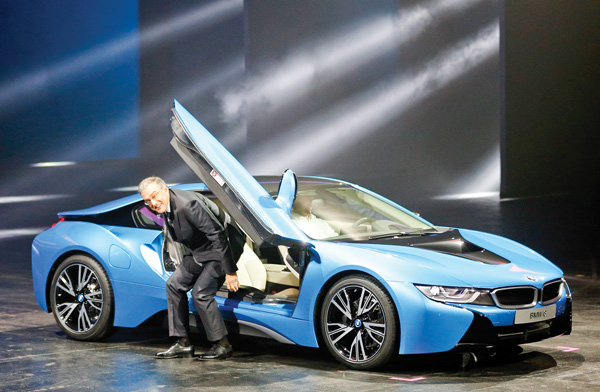 Photo
BMW CEO Norbert Reithofer gets out of the BMW i8 plug-in hybrid sports car during its world premiere at the first press day of the 65th Frankfurt Auto Show in Frankfurt, Germany. More than 1,000 exhibitors will show their products to the public from today through Sept. 22.
Associated Press
FRANKFURT, Germany
Judging by the slew of electric and hybrid vehicles being rolled out at the Frankfurt Auto Show, it might seem carmakers are tapping a large and eager market.
But in fact almost no one buys such cars — yet.
More automakers are coming out with electric versions of existing vehicles — such as Volkswagen's all-electric versions of its Up! city car and Golf compact — or ones they have designed as electrics from the ground up, such as small BMW's electric city car i3.
Analyst Christoph Stuermer at IHS automotive called Frankfurt "the first full-throttle electric propulsion show" that's about "getting electric-drive cars out of the eco-nerd, tree-hugger segment and into the cool group."
To whet appetites, automakers are making high-performance, luxury versions that give up little or nothing in performance to conventional models. BMW's i8 goes 0-62 mph in 4.5 seconds. Audi's Quattro sport concept — meaning it's for demonstration, not for sale — is an aggressive looking sports car with large air intakes flanking the grille and 700 horsepower from its hybrid drive. The company says it can reach 190 mph.
The Mercedes S-Class plug-in hybrid version, meanwhile, has a powerful six-cylinder internal combustion engine plus an all-electric range of about 20 miles. Owners could commute all-electric during the week, recharging overnight — but use the gasoline engine on a vacation. The company says mileage is 78 miles per gallon.
Only 0.2 percent of all cars registered in Europe are hybrids, according to the ACEA European auto-makers association.
Analysts say there are solid reasons to make and promote such cars now. They can help lower average fleet emissions to meet government requirements, and automakers want to be ready in case governments push people into emission-free vehicles.