Austintown veterans' memorial complete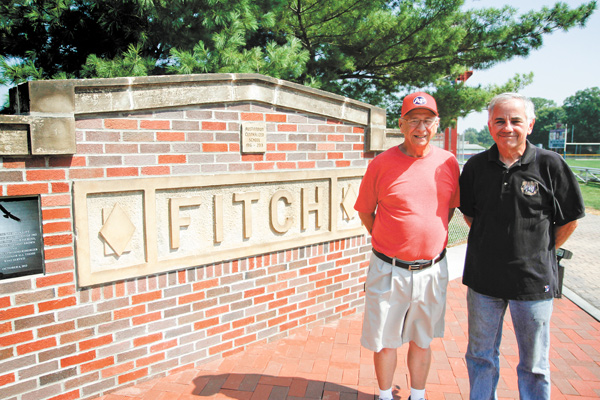 ---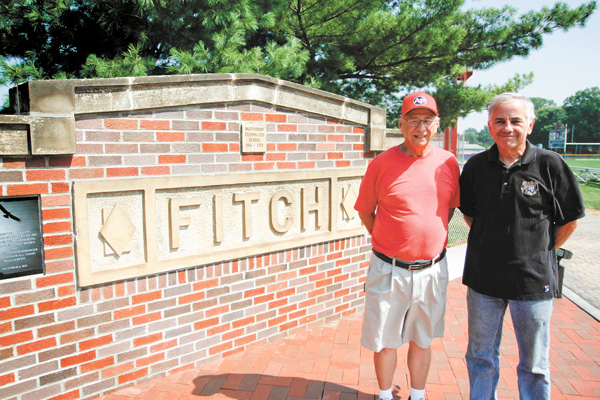 Photo
Jack Kidd, left, and Larry Cadman stand before the Austintown Veteran's Memorial located at Falcon Stadium. The memorial began as project to honor their friends, Army 2nd. Lt. Charles Brown and Marine Sgt. James Prommersberger, who were both killed in action in the Vietnam War.
By Kalea Hall
Austintown
With its project honoring fallen friends and classmates finally complete after months of fundraising and planning, the Austintown Class of 1962 Veterans' Memorial Committee can now marvel at what's been accomplished.
"This is a phenomenal feeling to know we got to this point," said Jack Kidd, one of the committee members.
The Veterans' Memorial located at Falcon Stadium honors Kidd's two friends and classmates, Army 2nd. Lt. Charles "Chas" Brown and Marine Sgt. James "Jimmy" Prommersberger, who both died heroically in action during the Vietnam War.
Engraved bricks on the patio of the monument will honor all veterans. The monument is now up, and the orders for engraved bricks are "going like hotcakes," according to Larry Cadman, committee member.
The project to build a memorial to their friends began more than a year ago and just kept growing, Cadman and Kidd said.
The idea, at first, was to just have a granite boulder to honor Prommersberger and Brown. But then the Austintown Board of Education said to use the stone engraved "FITCH" from the old high school on Mahoning Avenue — and the committee had to develop a new plan.
"When we got this sign, it became a game changer," Kidd said.
To fund the cost of building a 12-by-5-feet monument, the committee sold pens made from the wooden gym floor of the old high school.
The committee also has received donations from Lencyck Masonry Inc. of Youngstown to oversee the building of the monument, Bricklayers Local 8 of Austintown did the construction, and Masonry Material Plus of Youngs-town donated mortar and concrete block. Youngstown Electrical Supply donated lighting, and Don Hall Excavating of Youngstown donated services to grade, level and dig.
In addition, a stamped concrete walkway around the monument was donated by Beldon Brick of Canton.
Within 10 days mostly everything was complete on the monument.
At the groundbreaking ceremony July 26, Cadman and Kidd explained to a crowd of community members, family members of Prommersberger and Brown and school administrators exactly why the two men should be remembered.
"The point we have been trying to make is these guys were forgotten," Cadman said.
Karen Brown Ruberto, Brown's widow, sat in the audience with Kristin O'Neil, Prommersberger's daughter, which made it difficult for Kidd to keep his composure as he spoke of the way his friends died.
Prommersberger was fighting off 200 Vietnamese soldiers when he went out to save men, and he was hit while saving the last man.
Brown was killed as he fought off 4,000 Vietnamese soldiers.
Prommersberger and Brown received Silver Star and Purple Heart medals for their heroism.
"It's about the heroism," Cadman said of his speech.
Cadman and Kidd are planning another ceremony to conclude the Awesome-town Day on Oct. 6.
"Did you like that ribbon-cutting ceremony? You haven't seen nothing," Kidd said.
The closing ceremony of Awesome-town will include a veterans' motorcycle parade, five color guards, a Fitch band performance, two flags raised, multiple speakers and a tribute to America performance by Donnie Abraham.
"So, bring your Kleenex," Kidd suggested.
Another Fitch graduate, Darryl Dombroski, was killed in Vietnam while he fought with the Marines. Dombroski was a 1966 graduate of Fitch and members of his family are coming from Texas be at the ceremony, where he too will be honored and remembered.
In addition to polishing off the final touches on the ceremony, the committee also is trying to pull in funds for the scholarship fund also honoring Prommersberger and Brown.
As often as they can, Kidd and Cadman and other members of the committee visit the completed monument.
"We just put the bench out here because we just keep coming out here," Cadman said.
The project "has been a fulfilling and rewarding project from beginning to end, and it's not over yet."
Proceeds from the purchase of engraved bricks for the patio of the monument will go toward the scholarship fund. To purchase a brick, email fitchclassof1962@gmail.com.