9/11 ceremony exceeds expectations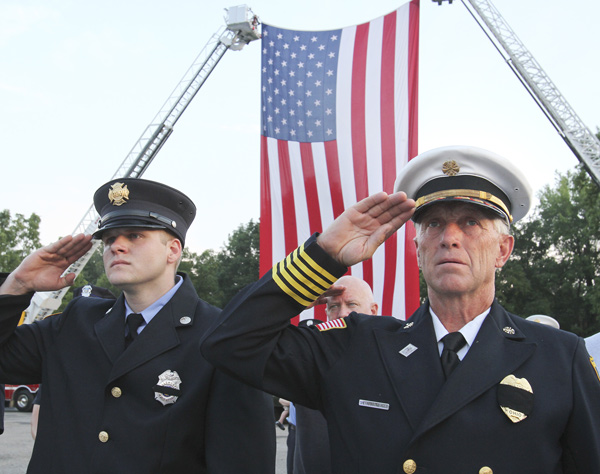 ---
Austintown 9/11 Ceremony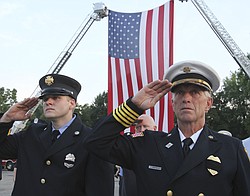 Gallery
A ceremony to remember the events of 9/11/2001 was held in Austintown.
By Kalea Hall
Austintown
Fred Marcum, the leader behind the 9/11 Memorial Ceremony in Austintown, got what he was hoping for with the ceremony: hundreds of Mahoning County residents and servicemen gathered together to simply remember.
"It by far passed my expectations," said Marcum, a 16-year firefighter for the Austintown Fire Department.
At the 9/11 Memorial Park in Austintown, together the crowd stood in honor of those who lost their lives and fought for freedom on Sept. 11 2001, they listened with respect to the guests of honor from the New York Fire Department and in multiple moments of silence, they sat to reflect on a tragedy that united a country.
"We remember the selfless service when we recall the firefighters who rushed up the stairs as everyone else went rushing out," said Rev. Kenneth Miller of the Immaculate Heart of Mary Church, in his opening remembrance prayer.
Two fire-engine ladders held up a large American flag to serve as a backdrop as the crowd held their hands to their hearts and the servicemen to their brows for the national anthem performed by the Austintown Fitch band and choir. Fireworks went off as the words "and the rocket's red glare, the bombs bursting in air" were sung, bringing tears and laughter to the crowd.
"People did not forget, that is the main thing," said Patrick Connolly, who is a part of the committee that established Austintown's 9/11 Memorial Park.
Multiple fire departments from Mahoning County including the Austintown, Boardman, Canfield and the Western Reserve Fire District also were at the ceremony.
The Youngstown Police Department Honor Guard gave a 21-gun salute, and performances by The Celtic Flame pipe and drum corps, including "Amazing Grace," gave a chilling effect while a slide show of Sept. 11 pictures flashed across a big screen.
"As firefighters, we laugh, cry, fight and bicker, but when it is all said and done, we will come together for a common interest," Marcum said in his speech. "We are a brotherhood."
Marcum said the two key-note speakers, New York firefighters Nick Mincone and Michael Kahula, immediately become a part of his brotherhood upon meeting them.
Both men received paintings by Ray Simon for their commitment to serve and for coming out to speak to the community all the way from New York.
Don Jordan, captain of the Nimishillen (Ohio) Fire Department also received a painting for restoring Engine 257, which was used in 9/11.
"What's important to remember is not what I did," Mincone said. "What's important to remember is what everybody did."