Published: Wed, September 11, 2013 @ 3:24 p.m.
Vindy Talk Radio will be live at 8 a.m. with Louie Free.
VTR - Lauren Lindvig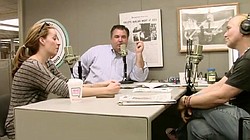 Video Set
Louie Free will wake listeners up from their dream state with the authors of "A Field Guide to Lucid Dreaming."
Later, taste buds will be tantalized as author Jill Skeem joins the show to share simple vegan twists to the comfort foods from her new book "Comfort Food Gets a Vegan Makeover."
Special programming for this Thursday will also include a 10 a.m. visit from WFMJ's Lauren Lindvig, making her Vindy Talk Radio debut! She's already had a big week... she'll be discussing her new teammate at WFMJ and singer Debbie Gibson's Sept. 9 visit to WFMJ Today.
We'll also take some time to catch up on Vindy news, starting at 11 a.m. On the agenda: We'll discuss the fifth season of Vindy's Blitzmobile, making its first appearance this weekend at the ballyhooed Poland–Boardman game.
Go to vindy.com/radio to listen to the show live, or vindy.com/mobile/vindy-radio to listen from your smartphone.
Click here to listen to the show.
Vindy Talk Radio Studio: 330-333-4454