Freeway ramp opened on Route 224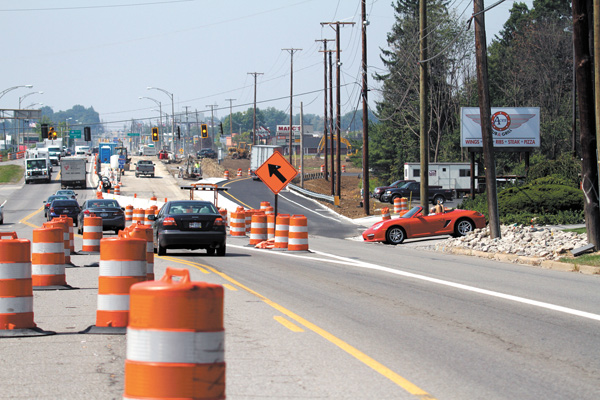 ---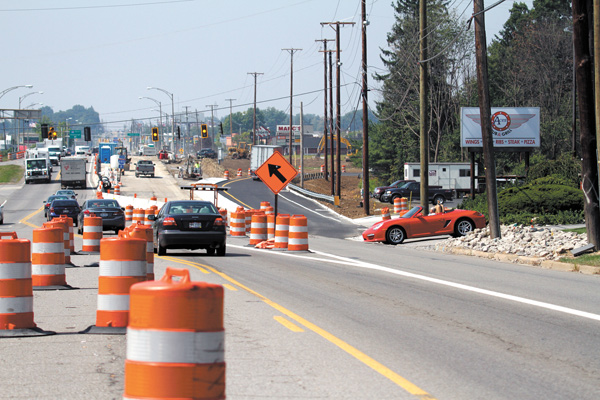 Photo
Construction by Ohio Department of Transportation workers on U.S. Route 224 and Interstate 680 continues and has tested the patience of motorists driving along Route 224. Workers have, however, completed the northbound ramp to I-680, alleviating some of the traffic backups into Poland.
By Kalea Hall
Boardman
Some business owners have mixed feelings about the Ohio Department of Transportation's $5.4 million U.S. Route 224 construction project.
The work, expected to be finished by the first week of November, is moving along. The northbound ramp to Interstate 680 was opened Friday after construction ended there, alleviating some of the traffic backups into Poland.
The backups had been caused by traffic crossing over Route 224 to get to the temporary entrance ramp of I-680 north, while the actual ramp was being worked on.
"I think they did a very efficient job," said Robert Duponty, owner of Robert's Hair Salon located in a Route 224 plaza near the on-ramp to I- 680 north.
But Steven Eppstein, owner of Steven's Optical in the same plaza, is concerned the adjusted ramp to get onto I-680 may cause more accidents with customers leaving and getting into the plaza.
"It just seems to be a potentially dangerous situation," Eppstein said.
Eppstein said he spoke with one of the project supervisors last week, then realized there are a couple of potential problems. His first concern is that cars leaving the parking lot and trying turning left on Route 224 would have to cross multiple lanes and a freeway entrance ramp.
On the other hand, Duponty does not believe the construction is a problem, and he said his business has not been affected.
"I have 90-year-old ladies come and get their hair done," Duponty said. "If they can do it, anyone can."
Eppstein said he also was concerned about his patients, and the patients leaving the chiropractor's office located in the same plaza. He said dealing with crossing multiple lanes might be difficult for patients who just had procedures done.
"You haven't resolved the situation; you just moved it to the other side of the freeway," Eppstein said.
Eppstein's other concern is that the light at the end of the bridge over I-680 would be shut off, so cars would not be forced to slow down.
The Ohio Department of Transportation confirmed the light will be working after the constriction is complete, but it will be periodically used throughout the construction process.
The project includes widening the bridge over I-680 and replacing a culvert on Route 224 east of I-680. The culvert on the south side of the bridge is now being replaced. By November, all lanes will be open in time to handle holiday traffic.