Second Chance Ministry moving to new location and revamping meal schedule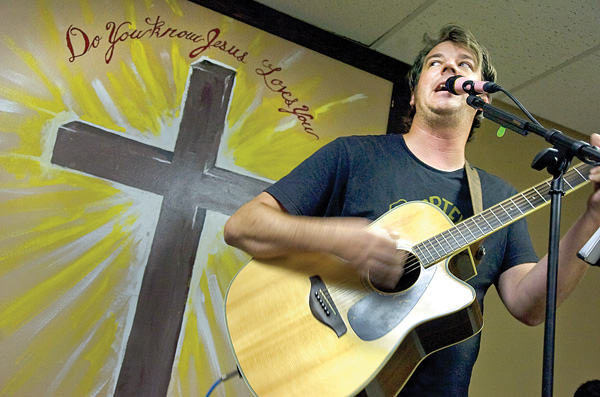 ---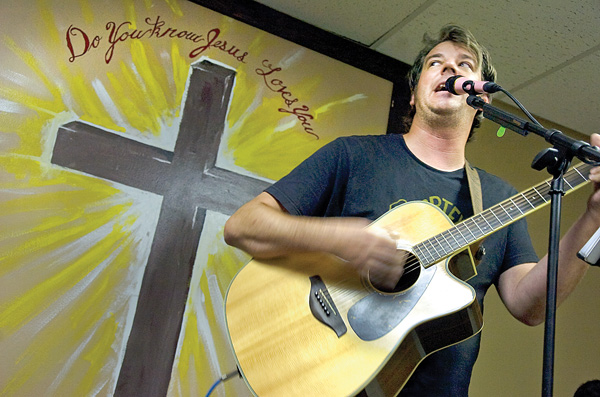 Photo
Matt Minnick of Newton Falls sings one of his original Christian songs during a recent Saturday praise and worship service at Second Chance Ministry. The ministry is moving from its current Austintown location to 3415 Canfield Road, Youngstown. Minnick will sing there Sept. 28.
By LINDA M. LINONIS
YOUNGSTOWN
Second Chance Ministry is on the move in multiple ways.
At the end of this month, it's relocating to a new building at 3415 Canfield Road, Suites 2 and 3, in the city's Cornersburg area.
"It's a higher- traffic area," said Dave Fidram, ministry coordinator, who said the location is more accessible and has more space.
At a special service at 4:30 p.m. Sept. 29 at the new location, Fidram will be ordained as a pastor by Bishop Martha Sanders of Hour of Power in Farrell, Pa. He studied under the late Pastor Theresa Luther of Ark of the Covenant Church, which is nondenominational.
Fidram said the ministry also has revamped its service and meal schedule. Meals will be offered from 1 to 3 p.m. the second, third and fourth Wednesdays of the month starting in October. The Sunday meal was discontinued because it interfered with worship and keeping the Sabbath, he said.
Services are praise and worship at 6 p.m. Saturday and 10 a.m. and 6 p.m. Sunday. He said the different times reach out to people who may work weekends.
"This is a ministry working within the community to reach the community," he said. Fidram said Second Chance Ministry takes its name from the idea that "God gives us second chances to change our lives. Jesus has given us a second chance through His sacrifice."
Fidram said some volunteers come from Upper Room Ministries in Austintown, where Second Chance was based at one time.
"Our mission is to reach out to the community for Christ and help the less fortunate with food, spiritually and fellowship," he said. "The lunches provide a means for companionship. People want to have a place where they are loved and accepted."
Fidram said Second Chance accepts all people, no matter their particular lifestyle. "We're all in God's image," he said, adding, "We don't judge."
An important element of Second Chance worship is its music ministry. "God tells us to praise His name," Fidram said. "I think people feel the spirit of God in music."
Jenna Shank of Truckers 4 Jesus Truck Stop Ministry in Girard often plays, and Matt and Melissa Minnick of Newton Falls will play Sept. 28 at the new location.
Second Chance depends on donations to keep the doors open and meals available. There's a donation box for that purpose, and donations also are accepted at Huntington Bank for Second Chance Ministry. "We've kept the doors open two years now," Fidram said.
During that time, about 6,000 people have come through the doors for food, fellowship and worship. The number, Fidram said, reflects first-timers and repeat attendees. "We're here giving the message and only you can answer the invitation," he said.
A steady core group of 15 attends worship while the meals attract between 85 to 115 people. The age range is from 15 to older adults.
Fidram, who worked as a caterer for 35 years, also is the chief cook at Second Chance. "My brothers worked with my Dad on cars and my Mom taught me to cook. It's kind of a gift," he said.
He added that "the Lord led me down this path ... to reach people and serve him." Fidram said he knows other people can be helped through the ministry because he was. "I truly work for God. He's the provider," he said.