Two New York firefighters to speak at 9/11 ceremony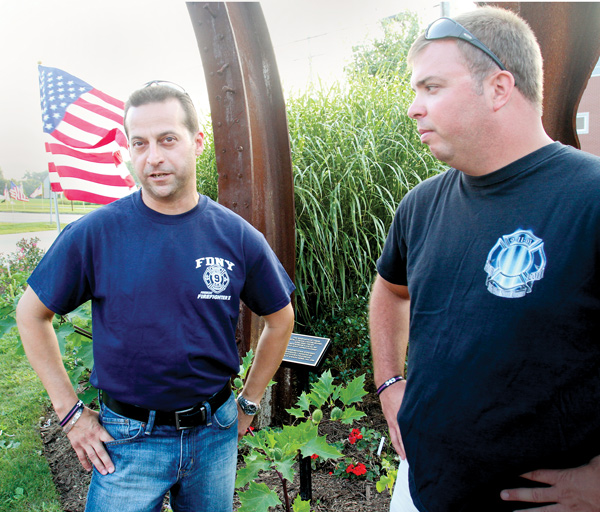 ---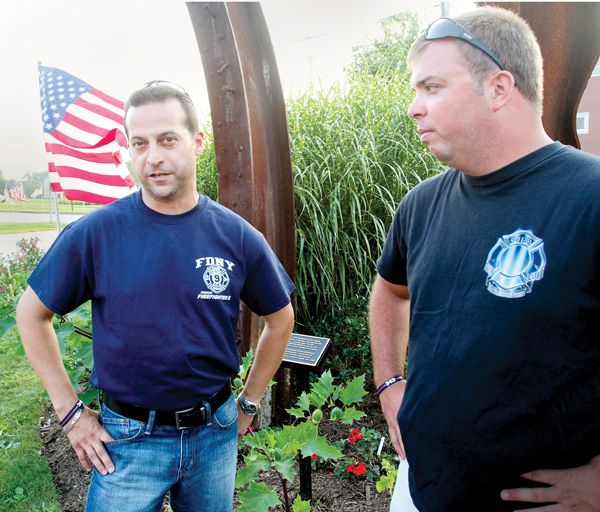 Photo
New York Fire Department members Nick Mincone, left, and Mike Kahlua look over a memorial at the Austintown 9/11 Memorial Park. The two will speak at Austintown's 9/11 ceremony at 6 p.m. today.
By Kalea Hall
Austintown
Nick Mincone, a firefighter who fought off flames during the Sept. 11 attacks, doesn't have a planned speech to give to the hundreds expected to attend Austintown's Sept. 11 ceremony today.
Instead he will just coolly wing his speech and answer any questions that come his way.
"It's nice to see people actually going out of their way for a nice remembrance for all the people who didn't make it home," Mincone said. "It's nice to know something like this is still being honored and remembered."
This is the 10th year Fred Marcum, an Austintown firefighter, has put together a 9/11 ceremony for every one in the Valley to come out and show their support for those who gave their lives that day. The ceremony will be at the Austintown 9/11 Memorial Park and begins at 6 p.m. It will include a speech from both Mincone and Mike Kahlua, another New York firefighter who fought the flames on 9/11, a shotgun volley by Civil War re-enactors, a color guard presentation, 21-gun salute and more.
"It's amazing," Marcum said about bringing in Mincone and Kahlua to speak. "It gives you goose bumps."
Mincone and Kahlua made it to Austintown with the help of Don Jordan, the captain of the Nimishillen Fire Department near Louisville, Ohio. Jordan has a hobby of rebuilding New York police cars and fire trucks, which led him to meeting the firefighters.
Jordan decided he wanted to restore some of the fire engines used in 9/11.
One of those is engine 257, which is the engine Mincone was with when the 9/11 terror attacks happened.
Jordan got to meet Mincone and bring several New York firefighters to Canton for a ceremony, so when Marcum asked if it would be possible to bring some New York firefighters to speak in Austintown, all they needed to do was make a call, Jordan said.
"This day needs to live on as a day that changed the world like Pearl Harbor," Jordan said.
Mincone had only been on the job for just over a year with engine 257 in Brooklyn when the attacks happened. Mincone had the day off, but minutes after hearing about a plane hitting the World Trade Center he was called to the station. He was sent to Manhattan and told to "go find a fire truck and use it."
Mincone and the crew he had with him did just that.
"We spent hours putting out the fire," Mincone said.
Mincone spent about 48 hours putting out the flames with the other firefighters on scene. He stayed with engine 257 for 12 years and is now a part of the marine company in Staten Island. The marine company is made up of fast rescue response boats.
Kahlua is a firefighter with engine 262 in Queens.
Both men said if an event like 9/11 were to ever happen again the response from firefighters and other emergency personnel would be the same.
"I could comfortably say there is not one of us who would turn the other way," Mincone said.
Meanwhile, Gov. John R. Kasich ordered flags to be flown at half-staff today upon all public buildings and grounds throughout Ohio in honor of the lives lost in the attacks. Flags will be flown at half-staff from sunrise to sunset.