YSU hurt by Big Ten dropping FCS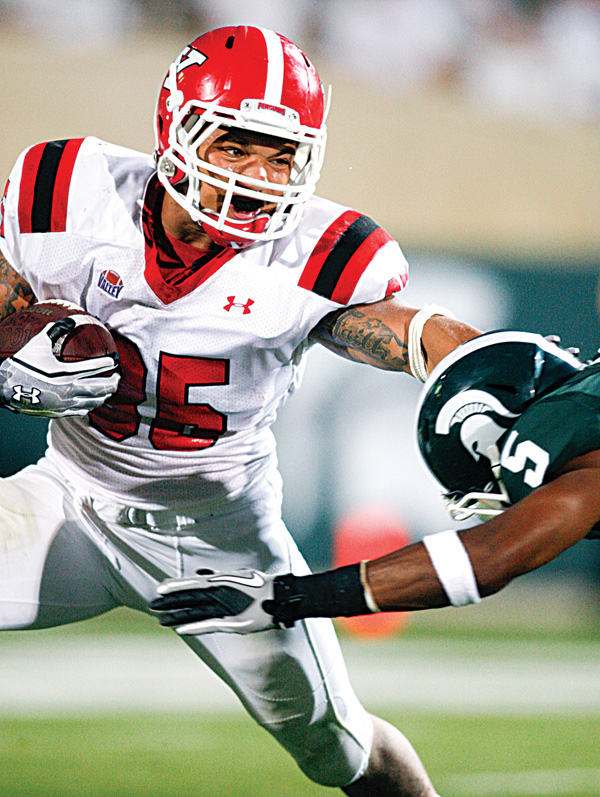 ---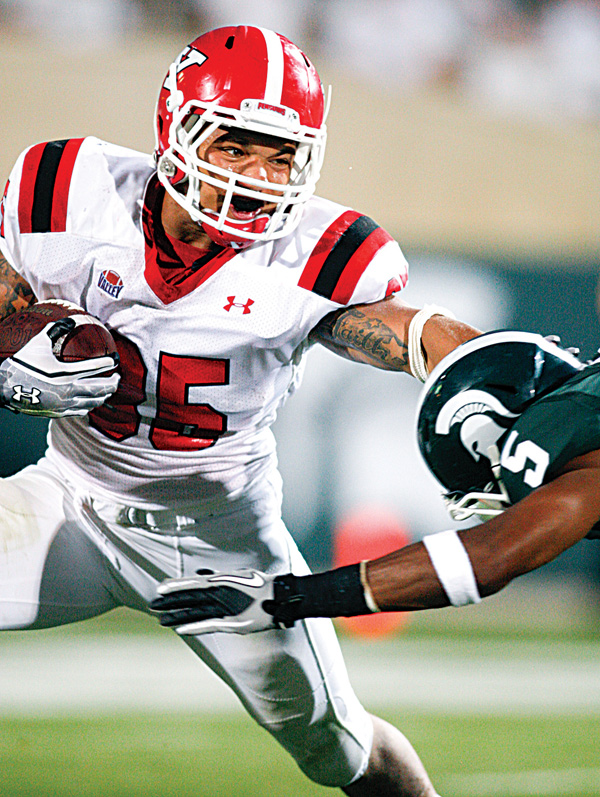 Photo
Youngstown State's Jamaine Cook, left, stiff -arms Michigan State's Johnny Adams during a game in East Lansing, Mich. Michigan State won, 28-6. The teams will meet again Saturday in East Lansing.
By Joe Scalzo
YOUNGSTOWN
When Youngstown State played Michigan State two years ago, defensive tackle D.J. Moss got to be on the field and in the locker room. He even went through warm-ups.
But, thanks to a training camp concussion, he never got in the game.
"It kind of left a sour taste in my mouth because I haven't got to play out there" at Spartan Stadium, Moss said. "So I'm excited for the opportunity."
If Big Ten commissioner Jim Delany has his way, it'll be the Penguins' last.
This weekend, YSU will travel to East Lansing to play in what could be the second-to-last Big Ten game in school history. Delany is pushing for conference schools to drop FCS teams from their schedules, saying those contests are "like a junior college team playing against a high school team or a high school team playing against a JV team.''
YSU coach Eric Wolford, who coached at Big Ten-member Illinois from 2007-08, has repeatedly expressed his disappointment over the Big Ten's decision, but said on Tuesday that Delany's comments didn't frustrate him.
"I always say everyone is entitled to their opinion," Wolford said, choosing his words carefully. "I really don't even think about it.
"It's just what he felt like he needed to say."
YSU is 0-5 against Big Ten schools, including a 28-6 loss to the Spartans in 2011. But the Penguins are 20-25-1 against FBS schools all-time, including a 31-17 win over Pitt last year.
"Getting the win against Pitt last year definitely gave us confidence," Moss said. "It lets us know we can play with teams of that caliber.
"I've been blessed with the opportunity to play in these big games. It's unfortunate [they're going to stop] because I would like to see these young guys get more opportunities to play schools that I had an opportunity to play. But you can't really do much about it."
Overall, Missouri Valley teams are 2-42 against Big Ten schools, including an 0-4 mark this season. But three of this year's games were close: Purdue 20, Indiana State 14; Iowa 28, Missouri State 14; and Illinois 42, Southern Illinois 34.
FCS schools already have 10 wins over FBS schools this season, matching last year's total in just two weeks.
While those wins are valuable — both for playoff purposes and the overall reputation of a program — Wolford said just having those games on the schedule is invaluable.
"It's opportunities for young people to have experiences they wouldn't normally get," Wolford said. "These kids don't get a chance to play in front of 90,000 or 100,000 people and go against coaches you see on ESPN all the time.
"It's a great experience for the kids and we recruit to that."
YSU will play at Illinois next season and had a contract to play at Ohio State in 2015 before the Buckeyes were forced to cancel when the conference added Rutgers and Maryland, expanding the conference schedule to nine games. Instead, the Penguins are close to a deal with Pitt in 2015.
"That's a great experience for a kid who grew up a Steelers fan his whole life to get a chance to play at Heinz Field," Wolford said. "If you're not good enough to go to Pitt, it's nice to at least be able to say you got a chance to go over there and play."