Mooney golf undefeated (officially)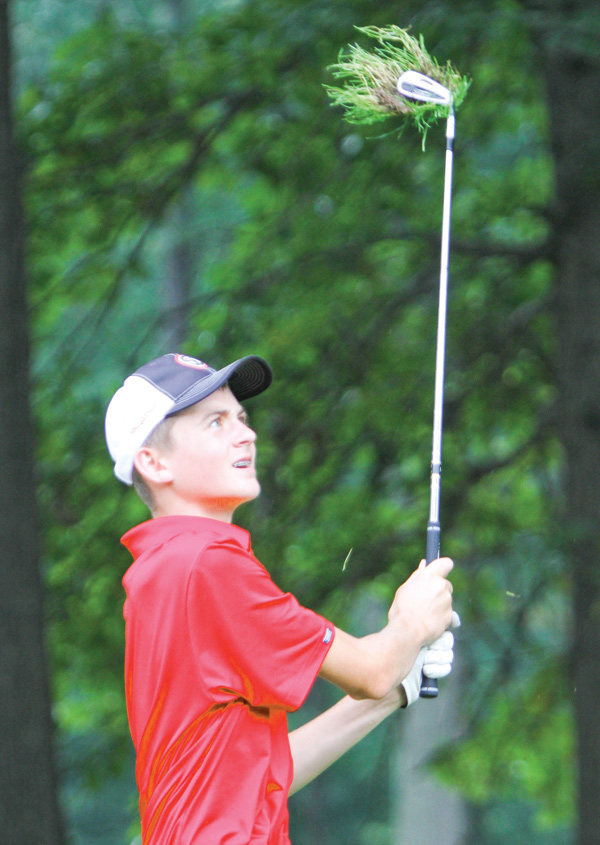 ---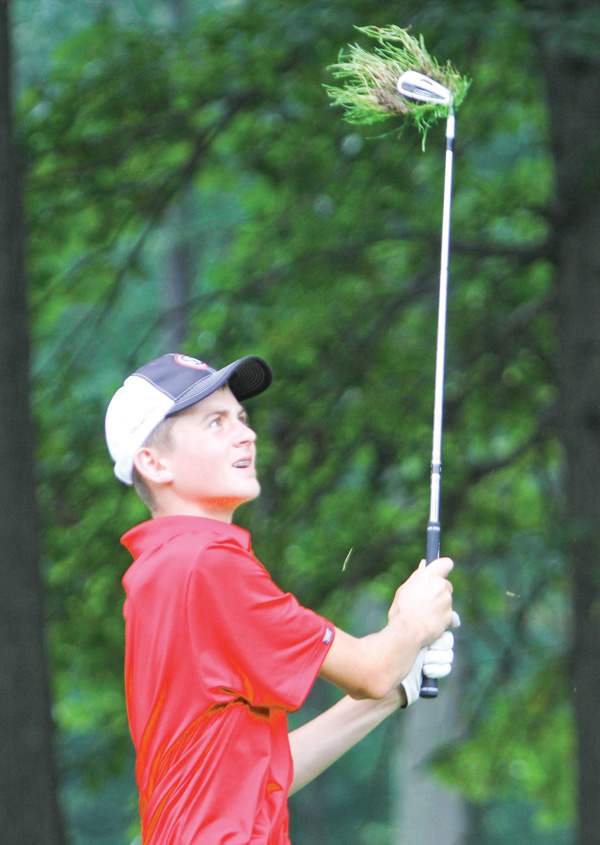 Photo
Mooney's Ken Keller brings up a divot while making an approach shot from the rough during Monday's match at Mill Creek.
By Ryan Buck
Boardman
Bob Banks began his teaching career at Cardinal Mooney in 1963. Three years later, he started coaching at the school and he has led the boys' golf team to five state tournament appearances with back-to-back titles in 1988 and 1989.
There is a first for everything, however, and Monday evening's match with fellow undefeated Louisville St. Thomas Aquinas brought one.
"One kid didn't like the ruling we gave him when he took [the ball] out of the bunker," Banks said as he waited for a call to be made to the Ohio High School Athletic Association to resolve the disagreement. "You're not allowed to remove it from a hazard. We added a stroke to his score and he refused to sign his scorecard."
If Mill Creek Golf Course had a public address system, the "Jeopardy" theme song would have been appropriate.
"Had he signed it, they would have won the match by one stroke. At the end of the match, he says, 'Now, I'll sign it,'" Banks said. "I don't think you can sign it [now] after you've refused to sign it when the ruling was given. I don't know. They're going to proceed down to the state and get a ruling."
The ruling was made late Monday that Aquinas No. 1 seed Dan Mosher's play resulted in a two-stroke penalty, giving Mooney the match on a tie-breaker.
As wild as the finish was, the eternally worry-free Banks is in the midst of another fine season, which has the Cardinals sitting undefeated and vying for their third trip to the state tournament in three seasons.
"It's a learning process," Banks said cheerfully. "You take one on the chin. Sometimes that's the way it goes."
Freshman Ken Keller, who paced Mooney with a 38 on Mill Creek's South course front nine, immediately became the Cardinals' top player in the summer and leads the team with a nine-stroke average of just under 40 strokes.
"He's a good player," Banks said. "He's pretty savvy as far as how to manage the golf course."
Keller, who won this year's 14-under Greatest Golfer of the Valley junior competition, says he was accepted immediately by teammates two and three years older.
"We're doing pretty well this year," Keller said through a mouth full of braces. "For the first year of playing high school golf, it's definitely been a fun one.
"They've welcomed me like I'm their brother. We're all basically a six-man family."
Having competed in and won tournaments across Northeast Ohio, he's had to make some slight adjustments.
"It's basically two-on-two for every match," Keller said. "It's all about playing your best and being a team player."
Mooney senior Dan Martin sees a big difference in the team with the precocious Keller on and off the course.
"He's very energetic," Martin said. "It's good he never shuts up and he keeps the mood up. I definitely came into this season knowing we had a shot at a good year just because he came in."
Michael McCarthy, Mooney's other senior, worked his way onto the varsity in his final season and has no problem playing a supporting role.
"Ken, being a freshman, is definitely a leader and Dan and I know we have to try to be the second and third scorers to try and keep it up," he said.
When the Cardinals begin their run at the Division II State tournament at the Sectional at Ravenna's Windmill Lakes in two weeks, Banks might see another first: a Mooney freshman as the overall medalist.