Repetitive pen strokes become patterns and a design emerges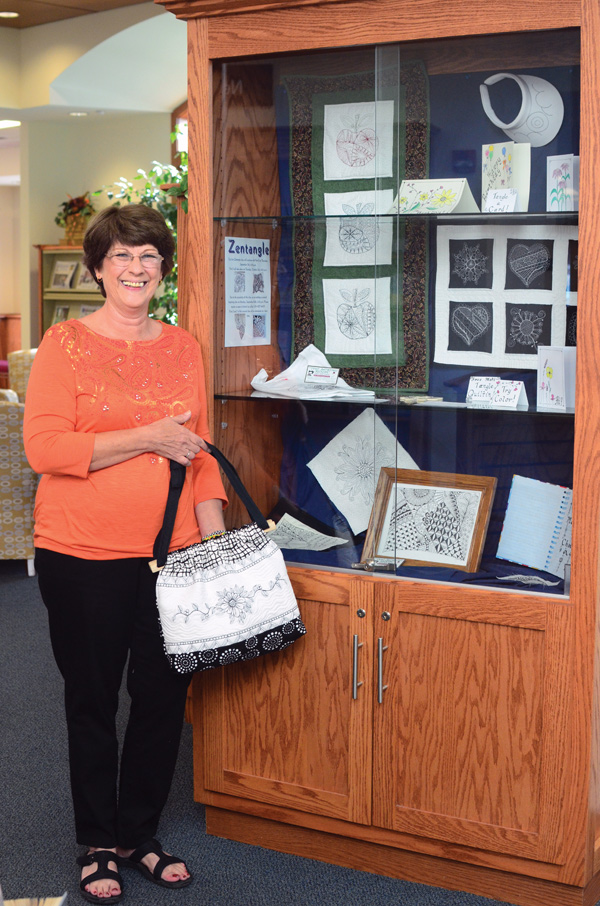 ---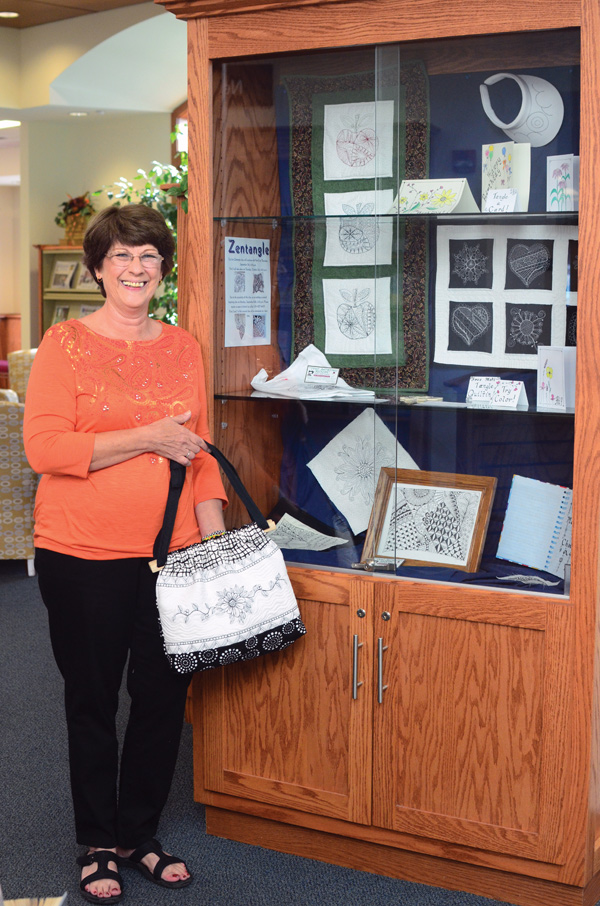 Photo
Kathie Sabatino of Salem stands next to a display of Zentangle-inspired designs, including a purse she made, at Leetonia Community Public Library. She off ered classes at the library on the unique form of expression that has a meditative quality. Sabatino, who operates The Sewing Room, said the Zentangle art form helped improve her quilting. At top, a close-up view shows how she transferred a design to make a purse. The strokes on paper show how a series of lines and other forms combine to make a unique pattern.
By LINDA M. LINONIS
Leetonia
A group of women who recently gathered in the meeting room at Leetonia Community Public Library tangled with a unique form of expression.
Kathie Sabatino led them through steps to make repetitive pen strokes that became patterns. Called Zentangle, the copyrighted art form and method was created by Rick Roberts and Maria Thomas.
Sabatino, who isn't a certified Zentangle teacher, said she hopes to become one. She's on a waiting list to take the four-day, $2,000 seminar to do just that.
Her at-home business in Salem is The Sewing Room, where she offers classes, quilting service and quilts for sale. For information, call 330-337-3887. "I've been sewing all my life," she said. "It comes naturally."
She started learning about Zentangle last January when she attended a class. She knew she had to continue with it. "I have to do that," she said.
Sabatino said Zentangle produced an unexpected effect in her quilting: it improved it. "I think it's about the focus and concentration."
She encouraged the women who met at the library by saying, "There's no right or wrong expression ... draw in the moment."
Sabatino said there are some 140 original Zentangles; more information on the process may be found at www.zentangle,com, com.
One might compare the strokes to doodles. When repeated and combined with other different strokes, a unique design emerges.
Sabatino said the process, done only in black and white, starts with a 31/2-inch tile, or piece of white or black paper. A black pen is used on white paper and a white gel pen on black paper.
She noted the creators purposefully used what she called "quirky names" to describe the strokes. That's to prevent any preconceived ideas.
Drawing lines to made a paradox, a triangle, is a study in concentration. Sabatino asked the women to draw the triangle on the tile; then the tile is turned to the right and another triangle is drawn and so on and on.
"You concentrate and focus so much on drawing the lines, it becomes meditative," Sabatino said. "The actions are calming and relaxing."
What's interesting is that 10 people can use the same strokes, but each will produce a unique design. It's how they put them together.
As for shadowing, Sabatino said she takes a photo of the piece and looking at it reveals what should be highlighted.
A cotton-tipped swab works well to shade as does chalk. The best thing? "If you don't like it, erase it," she said.
Maybe what attracts people to Zentangle is the whole premise of being "free form."
Cynthia Foust of Youngstown agrees. "Doing this relaxes me," she said.
"I like it because it's simple to do but looks impressive. It's easy and not expensive," Foust said.
She showed some of the designs she had done and framed. "I plan to give some as Christmas gifts," she said.
Jeannie Morello of McDonald said she had heard about Zentangle and wanted to learn about it. "It takes me to a different place," she said.
Her sister-in-law, Mary Ann Sullivan of Youngs-town, said she had seen a book on Zentangle and it interested her. "It's like a meditation exercise," she said.
Betsy Williams of Lisbon, who said she habitually doodles, likened Zentangle to doodling with an end goal.
Looking at a book on Zentangle didn't help her; she learned more from the visual experience of watching Sabatino execute the strokes. "It's satisfying," she said of tangling. "You can't believe what people do with it."