Protestors oppose military action against Syria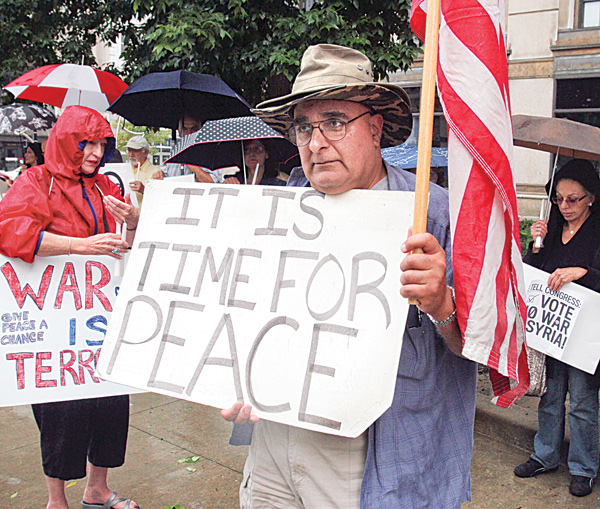 ---
Peace Rally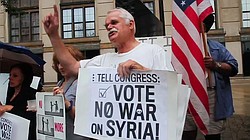 Video
A group of Youngstown residents protested U.S.military involvement in Syria.
By Sean Barron
YOUNGSTOWN
Rena Mansour fights back tears when she recounts a recent act of violence in which rebel extremists shot to death 11 people in a Syrian village.
Magnifying her pain is that one of those killed was her second cousin.
"I'm already depressed about everything going on, but the news about a possible [U.S.] attack and the date to throw a bomb or two and kill innocent people to make a point doesn't make sense to me," the New Castle, Pa., woman explained.
Mansour, who moved from Syria to the United States in 1997 at age 10, made her feelings known during a peace vigil Monday in Central Square.
About 70 people attended the 90-minute gathering to call on President Barack Obama to refrain from approving any military action in Syria. Attendees, many of whom have relatives in the war-torn country, also protested the possibility of what they see as U.S. aggression in a country that's mired in a two-year civil war in which more than 100,000 people have been killed.
The local event was one of hundreds across the country that took place at the same time, according to organizers.
Mansour had planned to visit Syria earlier this month but called off the trip because of the attack in the Christian village, she explained, adding that most villagers did not oppose the government. In addition, the extremists sent a note threatening another attack on the village, Mansour continued, saying that she talks regularly to many of her relatives in Syria.
Issam Kamleh, who moved to Cleveland 14 years ago from his native Syria, said he worries about his mother, sister and several other family members there.
His loved ones are OK largely because the Syrian Army is protecting them, but they fear what is going on nearby, added Kamleh, who's a truck driver.
Kamleh, who carried a sign that read, "War against Syria built on lies," said the U.S. must use its strength to bring all of the factions to the negotiating table.
"They're holding their own, but every minute they leave the house, they fear they may not return," said a Warren woman who didn't want her name used, referring to her five siblings and other loved ones.
In addition, she said, they often go days without water, electricity or Internet service, so communications are spotty at best.
Nevertheless, she said, countless Syrian citizens have been displaced from their homes and "need food and aid, not bombs."
"Obama is lying about chemical weapons and is using it as a pretext for another war," said Werner Lange of Newton Falls, an adjunct sociology professor at the University of Akron. "We've got to stop this madness, and we've got to stop it now."
Recalling the recent 50th anniversary of the Aug. 28, 1963, March on Washington, Lange, who also led the vigil, said Obama is turning Martin Luther King Jr.'s "dream into a nightmare."
Lange also advised attendees to urge their elected officials to vote against any military intervention in the Arab country.
Chanting "No bombs on Syria!" and "Hands off Syria!" participants called for a peaceful resolution to the situation.
One man brought up what he sees as a double standard in U.S. foreign policy, noting that America is considering a military attack against Syria because of its government's alleged Aug. 21 chemical-weapons attack, yet the U.S. dropped Agent Orange during the Vietnam War.
Also offering remarks were state Rep. Robert F. Hagan of Youngstown, D-58th; and Ray Nakely of Youngstown, a member of the Coalition for Peace in the Middle East who urged attendees to continue protesting the prospects of war in Syria.