The incident looks like a murder-suicide, police said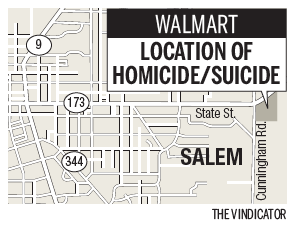 ---
SALEM
The apparent murder of a 37-year-old Canfield woman in the Walmart parking lot followed by the suicide of her estranged boyfriend happened so fast that witnesses in the victim's car didn't exit the vehicle before the shootings ended, police said.
"It happened very fast," said police Detective Brad Davis of the murder-suicide. "It's very tragic. It's tough for the families involved; very rough."
Charles Kropinak, 36, of Campbell, the estranged boyfriend of Sylvia Maillis of Canfield, who worked at the Salem Walmart for about eight years, was waiting for her in an employee parking lot about 2:40 a.m. Sunday, Davis said.
Maillis, a Walmart overnight support manager working from 10 p.m. to 7 a.m., was returning from a meal break at the nearby Taco Bell and Dunkin' Donuts with co-workers when she saw Kropinak in his car pull just a couple of spaces from her vehicle, Davis said.
They both got out of their cars, got into a verbal confrontation and Kropinak pulled out a 9mm semiautomatic handgun and fired several shots at Maillis before turning the gun on himself, likely shooting himself once, Davis said.
Maillis' co-workers didn't get out of the car until Kropinak fired the shots, which happened quickly, Davis said.
Police were called and officers found the two dead with the handgun near Kropinak's body.
"Everyone I spoke to spoke very highly of" Mallis, Davis said. "They said she was a great person."
"Our thoughts and prayers go out to all those impacted by this horrible tragedy," said Dianna Gee, Walmart spokeswoman. "Sylvia touched a lot of people's lives and she will be greatly missed. We are in close contact with the family as they come to terms with their loss. We are also working with law enforcement to provide any information we have to assist in the investigation."
Gee added: "As you might expect, our associates are hurting, too. We are deploying crisis counselors to the store and making their services available to associates. We are also bringing in associates from surrounding stores to help staff the store to allow our associates some time to grieve."
Several witnesses were interviewed, and store security video is being analyzed.
Salem police are investigating the case with the assistance of the Columbiana County Coroner's Office and the Ohio Bureau of Criminal Investigation.
The 24-hour store was closed briefly while police investigated and then reopened.