Roethlisberger & Co. suffer a Titan-ic stumble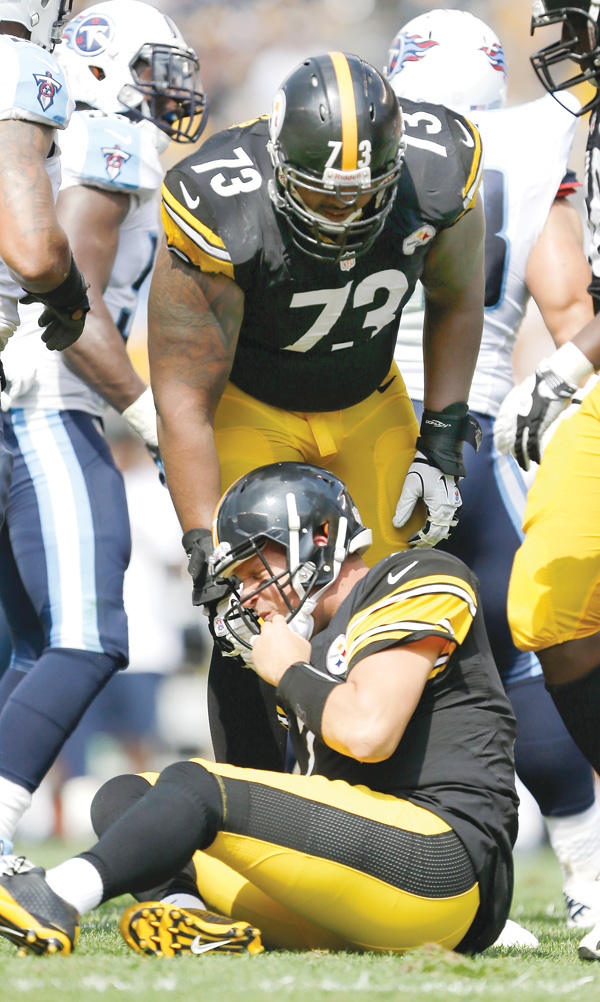 ---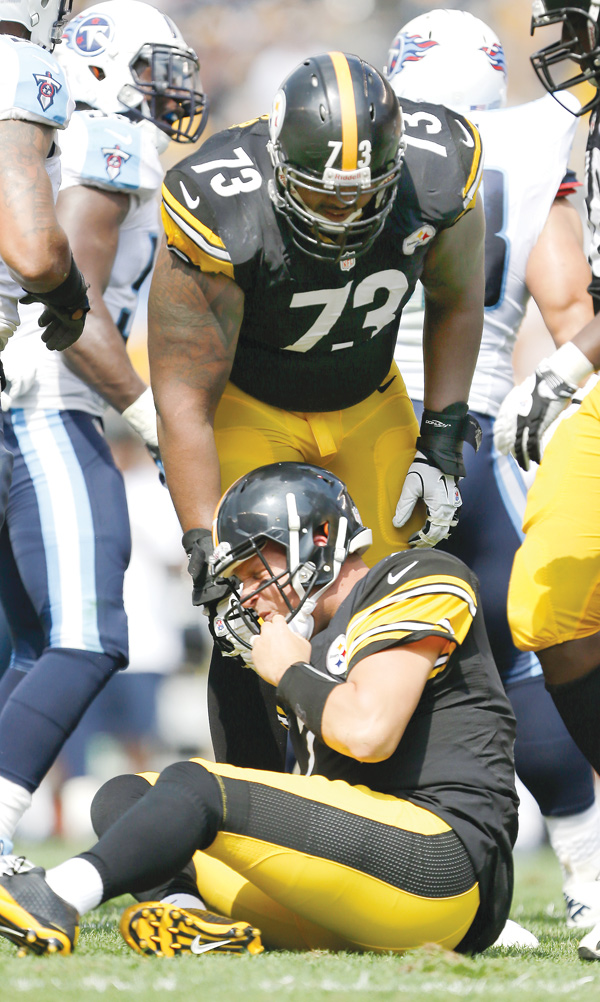 Photo
Steelers guard Ramon Foster helps up QB Ben Roethlisberger after he was tackled in the third quarter of their season opener against the Titans in Pittsburgh. Roethlisberger was sacked five times in the Steelers' 16-9 loss
Associated Press
Pittsburgh
The Pittsburgh Steelers kept insisting during a listless preseason the intensity would be there once the calendar flipped to September and the games started to count.
The calendar flipped.
The Steelers still flopped.
Sloppy at the start and injury ravaged by the finish, Pittsburgh opened 2013 with a dismal 16-9 loss to Tennessee on Sunday that exposed a variety of flaws that may take weeks for coach Mike Tomlin to address.
The offense managed just 32 yards rushing. Quarterback Ben Roethlisberger was sacked five times.
And while the defense kept Tennessee under wraps, it still allowed a pair of lengthy scoring drives and failed to produce a turnover.
Even worse, Pro Bowl center Maurkice Pouncey ripped up his right knee and linebacker Larry Foote ruptured his biceps. Both players are likely out for the season, an emotional blow to a team already in transition.
"We've got a lot of work to do," Tomlin said. "Nobody cares about our problems. They're glad we've got them. We need to understand that. We need to stick together and persevere."
Pittsburgh will have to do it without the linchpin for its retooled offensive line and the chatty old sage on one of the league's best linebacking groups.
Pouncey left in the first quarter when teammate David DeCastro fell on his right leg at the end of a running play. Foote left in the fourth quarter after Tennessee running back Chris Johnson slipped through his grasp.
"That's a tough loss for us," nose tackle Steve McLendon said. "But the thing we have to do man is come back and ready to work. The guy behind him has to take it off his shoulder and be ready. The opportunity is a small window."
So is Pittsburgh's margin for error. Already considered the third team in an expected three-way battle with Cincinnati and Baltimore for the AFC North title, the Steelers hardly appeared ready for the bounce back season they've been talking about for months.
Roethlisberger never looked comfortable while completing 21 of 33 passes for 191 yards and an interception to go with a garbage-time touchdown.
He spent a portion of the day on his back and had trouble dealing with a revitalized Tennessee defense invigorated by the arrival of assistant Gregg Williams.
"Not good enough, point blank," Roethlisberger said. "No excuses. I don't make excuses. It just wasn't good enough."
Tennessee's Jackie Battle ran for a 3-yard touchdown in the second quarter and Rob Bironas kicked three field goals for the Titans. Johnson added 70 clock-chewing yards as Tennessee snapped Pittsburgh's 10-game winning streak in home openers.
Following a bumpy offseason in which players such as Mike Wallace, James Harrison and Casey Hampton departed, Pittsburgh insisted it was not rebuilding.
At the moment, however, it certainly looks like it.
The Titans didn't dominate. Then again, they didn't have to.
Content to work between the tackles with Johnson and Battle, Tennessee held the ball for more than 34 minutes.
On their first possession, the Steelers were driving following a free kick when DeCastro fell on Pouncey's right knee. Pouncey was on the ground for several minutes before being taken off on a golf cart, his season over before it began.
Kelvin Beachum stepped in, but the drive ended when Redman — the de facto starter with rookie Le'Veon Bell sidelined by a sprained right foot — fumbled into the end zone.
"It's unacceptable," Redman said. "It wasn't a guy hitting more the ball coming out."