Miami dumps Weeden, Browns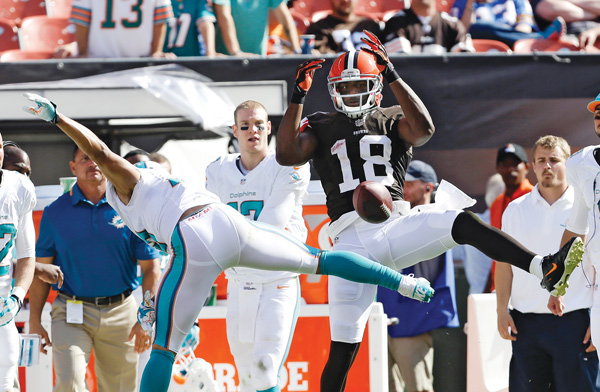 ---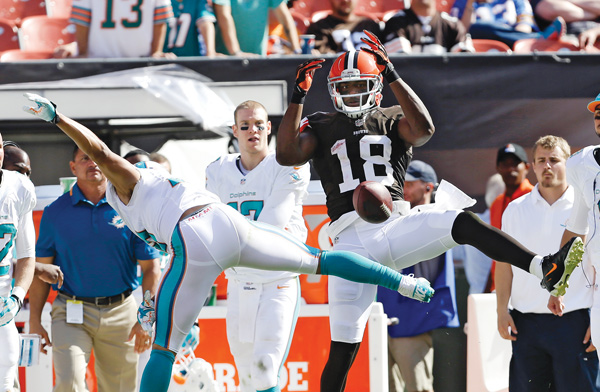 Photo
Browns receiver Greg Little drops a pass in front of Dolphins cornerback Brent Grimes during the fourth quarter of their NFL season opener Sunday in Cleveland. The Dolphins dropped the Browns, 23-10.
Miami dumps Weeden, Browns
Associated Press
Cleveland
There was smoke and flames during a new, flashy pregame introduction as the Browns welcomed another season.
Then, they went out and lost the opener.
It's become a tradition.
Brandon Weeden was sacked six times, Cleveland's offense didn't make nearly enough plays and the Browns lost their opener for the ninth straight season when they fell 23-10 against the Miami Dolphins on Sunday.
This one was supposed to be different. With a new owner and coaching staff and an improved, though young roster, notoriously jaded Cleveland fans were brimming with optimism.
It was mostly gone by halftime. The Browns laid another egg.
"It's not a good feeling at all," cornerback Joe Haden said.
Weeden threw three interceptions — two on passes that bounced off receivers' hands — and the second-year quarterback didn't do much to quiet his critics as the Browns fell to 1-14 in Week 1 since 1999. Following the game, Weeden, who by official count was hit 16 times, talked to reporters before he headed to the trainers' room for evaluation.
It's not known if Weeden is injured, but he was definitely hurting after the Browns' offensive line was manhandled by Miami's defensive front. Dolphins end Cameron Wake had 21/2 sacks, beating second-year right tackle Mitchell Schwartz almost at will.
"He's obviously a good player, his resume speaks for itself," Schwartz said of Wake. "I just have to do a better job against him. I tried to execute the game plan based on what I saw in film and I just didn't do a good enough job."
He wasn't alone. The Browns had issues on both sides of the ball and special teams. They didn't do much to make anyone think this season will be better than so many previous ones.
First-year coach Rob Chudzinski tried to spin things forward following his debut, but it's obvious one of the NFL's youngest teams has a lot of growing up to do.
"I knew we were a long ways away from where we wanted to be," said running back Trent Richardson, who started out well but finished with just 47 yards on 13 carries. "We're still putting stuff together. We're glad we had this game right here. We took a loss, but at the same time we know what we need to work on and get better."
Miami's Ryan Tannehill, surrounded by more offensive weapons in his second NFL season, passed for 272 yards and a touchdown.
Tannehill threw a 34-yard TD pass to Brian Hartline in the third quarter, and completed 6 of 7 passes for 78 yards on the Dolphins' clinching TD drive in the fourth.
Tannehill easily outplayed Weeden, who posted similar stats to Miami's QB last season but showed many of the same problems he had last season, when he forced passes into tight coverage and seemed slow in making decisions.
Weeden finished 26 of 53 for 289 yards and threw a 7-yard TD pass to tight end Jordan Cameron, but the 29-year-old was plagued by several drops and he didn't get enough protection from his line.
"It's not the way we drew it up," Weeden said. "We're all going to learn from this. There's no reason to point any fingers. We just have to get better as a unit and execute better and do the things we are coached to do."
It didn't help that Weeden was missing his top receiver as Josh Gordon served the first game of his two-game suspension for violating the NFL's drug policy. Without Gordon, the Browns lacked a vertical threat to keep Miami's secondary honest.
Right guard Oneil Cousins, filling in because Jason Pinkston and Shawn Lauvao are out with ankle injuries, was called for four penalties — two holding calls, a false start and a hands-to-the-face violation. The Browns committed nine penalties overall."