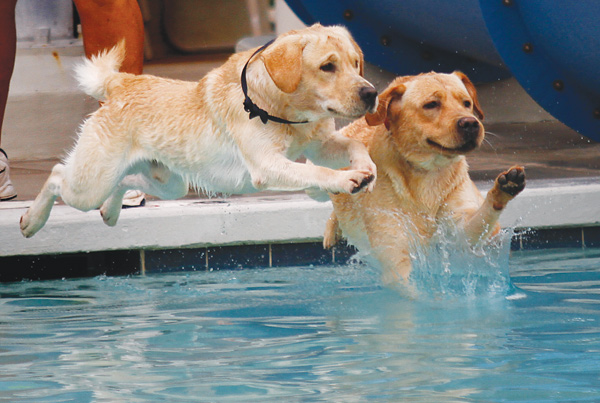 ---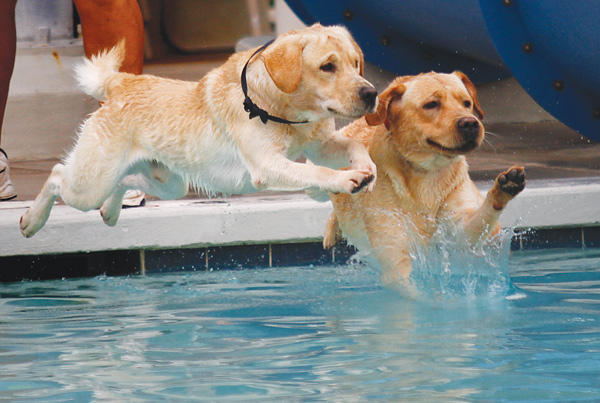 Photo
One-year-old Lab brothers Rafer, left, and Red leap into the pool at the Pooch Pentathlon at the Davis Family YMCA in Boardman on Sunday. The dogs vied in five athletic competitions including leap dog, fetch, doggie paddle, treasure dive and agility course.
By ELISE McKEOWN SKOLNICK
BOARDMAN
Wet footprints were scattered on the concrete surrounding the outdoor pool at the Davis Family YMCA, but they weren't human.
The pool and surrounding area were given over to dogs Sunday for the eighth annual Pooch Pentathlon.
"It's a community event for dogs and owners to have fun at the pool and promote camaraderie," said Chris Hughes, coordinator.
It's also a good chance for owners to see what their dogs are capable of and to use the pool for something out of the ordinary, she added.
Dogs can compete in any or all of five events: doggie paddle, fetch, leap dog, treasure dive and agility course. The agility course is the only land event. The others involve swimming, retrieving an item thrown in the water, leaping as far as possible into the water, and submerging their head to retrieve a toy under the water. There are three size categories, and prizes are awarded.
Tyne Horvath of Youngstown has been bringing her three Weimaraner dogs to the event since its inception.
"The dogs love swimming, and they love competing in the events," she said. "It's fun for them. I look forward to it every year."
Her dogs, Ziggy, Schultz and Crystal, competed in three of the events: fetch, doggie paddle and the obstacle course.
"It's a great event," Horvath said.
Between events, dogs shook the water off, sniffed one another and barked. They ranged in size from small to very large and were many shades of white, brown and black. Some even dressed for the occasion, wearing bows in their fur.
Elizabeth Woolford of Poland has been attending for years with her cocker spaniel mix, Blaze.
He enjoyed fetching a toy she threw in the water while she cheered him on.
"He's all about the toys," she said. "He just loves to swim, so it's a great day out."
Woolford and Blaze competed in all five events.
Most of the dogs got along. Blaze isn't always good with other dogs, Woolford said, but the pentathlon is an exception.
"He's so excited to swim that he minds his manners," she said.
Woolford said the event is great.
"I think our area needs more dog-friendly events," she said.
After the Pooch Pentathlon, the outdoor pool is closed for the winter.