Kysers celebrate 50th with family, friends at picnic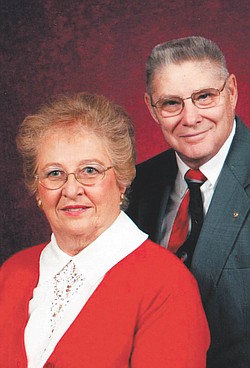 Photo
Mr. and Mrs. Ronald Kyser
LEETONIA
Ronald and Loretta Kyser of Leetonia recently celebrated their 50th anniversary at a picnic with family and friends at the home of their daughter and son-in-law, Laurel and Michael Sobota of Greenford. Their children and grandchildren were the hosts.
Other children are Paul and Laurie Kyser of Parma Heights, Ohio. Grandchildren are Sarah and Rachel Sobota and John Kyser.
The former Loretta Foertch married Mr. Kyser July 14, 1963, at the United Methodist Church in Columbiana.
The couple are members of Greenford Christian Church and the 61st Ohio Volunteer Civil War Re-enactment Unit.
Mr. Kyser worked for NRM Corp. for 33 years. He is a volunteer for the Big Reach Center of Hope at the church.
Mrs. Kyser was a business teacher at Columbiana High School for 35 years. She has been an Avon representative for 32 years and worked for H&R Block for 22 years.
The anniversary celebration will be completed in October with a trip to the Smoky Mountains.