Golden jubilee dinner celebration surprises Mr. and Mrs. James Francis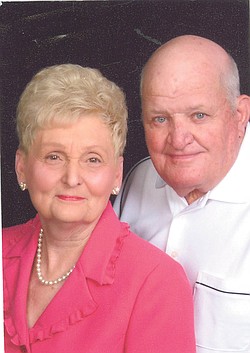 Photo
Mr. and Mrs. James Francis
COLUMBIANA
A surprise dinner Sept. 7 at New Life Christian Church in Poland honored Mr. and Mrs. James Francis of Columbiana for their golden wedding anniversary. Dinner hosts were their children and their spouses, Michael and Lisa Francis of Austintown and Todd and Stephanie Francis of Boardman. The couple's grandchildren are Erik and Alek Francis.
The former Barbara Quimby married Mr. Francis on Sept. 21, 1963, in North Lima.
The couple are members of Greenford Christian Church.
Mrs. Francis retired from Giant Eagle in 2003, where she was a head cashier.
Mr. Francis retired in 1991 from the Pennsylvania and Lake Erie Railroad, where he was a brakeman. He also retired from South Range Schools in 2000, where he worked as a custodian. He is a U.S. Army veteran.