Family honors Marshes with dinner for 50th anniversary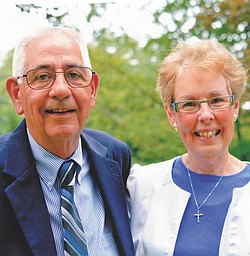 Photo
Mr. and Mrs. Arthur L. Marsh
LIBERTY
Arthur L. and Margaret Marsh of Liberty celebrated their golden anniversary with a dinner Aug. 10 at Bruno's Restaurant in Poland.
It was hosted by their children, Sally (Keith) Corso of Liberty and Art (Mary) Marsh of St. Mary, Kan. A daughter, Colleen Marsh, is deceased.
Eight grandchildren complete the family.
The former Margaret Mc- Kenzie married Mr. Marsh on Aug. 10, 1963, at St. Edward Church in Youngstown.
Mrs. Marsh was a stenographer for the City of Youngstown Urban Renewal. She is a member of Our Lady of Sorrows Parish of Youngstown.
Mr. Marsh was an engine lathe operator for 34 years for McKay Machine in Youngstown. He retired in 1993. He attends Our Lady of Sorrows.
The couple are members of the Mahoning Valley Olde Car Club.