Liberty Leopards bounce back for Cylar's first win
By Steve ruman
sports @vindy.com
LIBERTY
Niles vs Liberty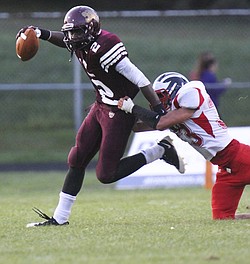 Gallery
It is often suggested that high school football teams show their biggest improvements between Weeks 1 and 2.
Liberty coach Kevin Cylar admits that perhaps it was the Leopards' coaching staff which needed to step up Friday in a non-conference showdown with Niles.
"Last week our kids, they came to play and they put everything out there," Cylar said. "We (coaches) needed to step up our game.
"Last week, it was just stupidity on our part. As coaches, we learned our lesson."
Cylar was referring to the lack of carries freshman Lynn Bowden received in the Leopards' Week 1 loss to Salem. On Friday, Bowden got 23 touches, gained 132 yards, caught a 26-yard pass for a touchdown and had a 75-yard kickoff return.
Bowden's heroics, combined with an outstanding all-around effort by Asim Pleas resulted in a Liberty 42-33 home win over the Red Dragons (1-1).
Pleas threw for two touchdowns, completing four of six attempts for 63 yards. He also rushed for 183 yards and three touchdowns on 24 carries, and had an interception.
"We have the best tailback in the state in Lynn, and the best all-around player in the state in Asim," Cylar said. "Lynn, he'll certainly continue to get more touches in the future."
Early, it appeared as though Liberty would have no answer for the high-powered Niles offense. The Red Dragons built a quick 20-6 advantage in the first quarter, despite running just seven plays from scrimmage. The Dragons scored on the game's third play on a Kyle Paden (8 of 15, 165 yards) to Marcus Hill (4 receptions, 99 yards) 19-yard pass play.
After Liberty scored to cut its deficit to 7-6, Hill returned the ensuing kickoff 85 yards to paydirt.
The Red Dragons closed the first quarter with a Paden-to-James Tate 34-yard touchdown pass.
Though leading 27-26 at the half, the fact Niles ran just 14 offensive plays to that point concerned Dragons coach Brian Shaner.
"We knew we needed to give our defense a break, we needed to have a more ball-controlled offense to keep our defense off the field a bit in the second half," Shaner said.
As a result, Niles turned to its ground game. Corey Hayes rushed for 95 second-half yards, but the Dragons mustered just six points after the break. Meanwhile, the Leopards scored touchdowns in the third and forth periods — both on 1-yard runs by Pleas — to secure the win.
"After our loss to Salem, our kids came back at 6:45 Saturday morning," Cylar said. "That's when I knew that this team had what it takes to bounce back."
Cylar, earning his first win as a head coach, received a surprise Gatorade bath as he was addressing his team.
"That's a first for me," Cylar said. "They don't give those to assistants. It felt great."