Fisher's pick helps Hubbard Eagles stop Girard
By Joe scalzo
Team

| Record | Div. | Conf. |
| --- | --- | --- |
| 5/5 | Div. IV | All-American Conference White Tier |
Team

| Record | Div. | Conf. |
| --- | --- | --- |
| 9/2 | Div. IV | All-American Conference Blue Tier |
HUBBARD
Girard vs Hubbard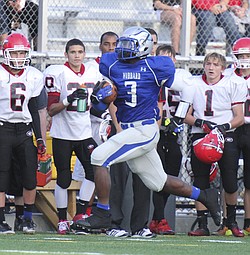 Gallery
With Girard playing catch-up, Hubbard's biggest play came from its mustard man.
Senior defensive back Bill Fisher made a game-clinching interception in the final minute of Friday's game, helping the Eagles survive, 28-26, in the first game on Hubbard's new turf.
"A couple plays before, I was thinking, 'I need to make a play,'" Fisher said. "They kept passing it to my side, kept isolating the receiver to my side, so I was thinking they were going to bring it to my side again.
"I was thinking I'd just stay a couple yards off and wait for the pass."
Quarterback Nick Cardiero, who sparked Girard's comeback from a 28-0 deficit, had driven the Indians from their own 1 to the Eagles' 47 with just over a minute left. On third-and-19, he fired the ball to the left side ... and right into Fisher's chest.
"I saw it coming, I made sure I caught it and I got upfield," he said. "I wanted to score but I started to cramp up a little at the end.
"Next week I'm going to eat some extra mustard."
Mustard?
"I eat a teaspoon [to ward off cramps] before every game," he said.
For most of the first half, Hubbard's fans thought they'd relish a blowout victory. On the first play from scrimmage on the new turf, standout junior LJ Scott took a simple handoff from the stacked-I formation, went around the right side of the line and dashed 67 yards for a touchdown.
Scott needed just seven carries to top 100 yards but injured his left ankle late in the first quarter and spent the second half in street clothes on crutches. (The injury is not expected to be serious.) With their main weapon out, the Eagles put the ball in the hands of 6-foot-5 senior QB Brennan Wassil, who threw for two touchdowns and ran for another to make it 28-0 with two minutes left in the first half.
But Girard answered with two seconds left in the second quarter when Cardiero found Jordan Graziano for a controversial 39-yard touchdown. Replays showed Graziano was actually down at the 3, then fumbled the ball into the end zone and recovered it. (When asked what he saw, Indians coach Nick Cochran said, "I saw a touchdown.")
Cardiero, who finished with 335 yards passing, added a TD pass and ran for another score in the second half and James Cupan ran for 103 yards and a TD for the Indians (0-2).
"We've got to start the game that way," Cochran said. "We haven't played well in the first half."
Wassil threw for 195 yards and ran for 43 for the Eagles (2-0), Darnell Tate added 87 yards receiving and 87 yards rushing and Fisher caught four passes for 50 yards.
"I'm not disappointed," Eagles coach Brian Hoffman said. "It's a great win because it's one we had to earn. That's going to help us as we move forward.
"Although we gave up 26 points, we played well at crucial moments when we had to."