Rotary and Kiwanis have joint meeting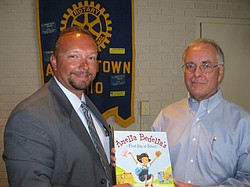 Photo
Neighbors | Submitted.Recently, members of the Austintown Rotary and Kiwanis clubs had a special joint meeting to hear about the efforts of Carlton Sears, who went to New Town, Conn. to help build a new elementary school.
The regular meeting of the Rotary Club of Austintown became the setting for a special joint meeting with the Austintown Kiwanis Club, hopefully to become a regular yearly event.
A combined total of 27 heard Kiwanian Dave Ritchie introduce Carlton Sears, member of the Youngstown Rotary, who spoke about his efforts in New Town, Conn. after the tragic shooting in December 2012. GE Capital sponsored a study and analysis by the Richard Harwood Associates to bring a solution and reconciliation to the town and its school at Sandy Hook Elementary.
The small town was about size of Salem, with 430 in the elementary school, an old building due for replacement or extensive renovation. Harwood took five Friday nights to let all parties concerned voice their opinions and concerns, then gave the town two weeks to formulate a plan of either consolidation, replacement, or renovation of the existing school. The decision was to rebuild on the same sight, but land was donated to turn the building entrance around and make it seem a different place.
Sears said the lesson he learned was that people have the capacity to reach decisions even if they disagree. The key is to keep an open mind, stay calm and understand those who disagree, putting yourself in the shoes of the other person.
Members and guests asked a number of questions, ending the program for the combined group.