Gridiron Club opens concession stand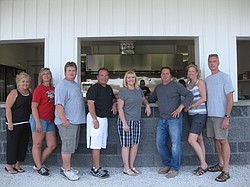 Photo
Neighbors | Abby Slanker.Members of the Canfield Gridiron Club had a soft opening of their new concession stand, which was donated by the John Annichenni family, at the Canfield High School football stadium Aug. 25.
By ABBY SLANKER
The Canfield Gridiron Club celebrated their new concession stand at the Canfield High School football stadium with a soft opening Aug. 25. Members of the Gridiron Club, coaching staff and school board members were invited to the concession stand to taste test the new menu options which will be available at all home football games.
The John Annichenni family donated the 1,650 square foot concession stand, which was built in just two weeks.
"I wanted to help the Gridiron Club and the kids for future years. I wanted to put something in place for them, going forward. I saw a need to do something and I thought the concession stand would be a good fit," Annichenni said.
The menu at the concession stand will include cavatels, meatballs, sausage sandwiches with peppers, pepperoni rolls, salad, hot dogs, chili dogs and the usual concession stand fare of pretzels, nachos and fries. The Tropical Sugar Shack will also be set up on Friday nights to offer shaved ice and cotton candy.
"Our goal here is to change the idea of a concession stand. We want parents to be able to come to the football games from work and enjoy a good meal and to be able to sit down and relax and eat. We will be making some of our menu items from scratch and we feel our food is restaurant quality. We want people to come to the games not just for football, but for good food on a Friday night," Annichenni said.
The concession stand building offers seating for 120 people with picnic tables and benches on each side of the building. Members of the Gridiron Club, the parent booster club for the Canfield Local Schools football teams, will be cooking and working the concession stand during the football games.
"Today was about doing some cooking on the stoves and griddles and figuring out if we have any issues to work out. We wanted our volunteer Gridiron Club members to get familiar with how everything works and to be able to check out the building," Annichenni said.
The building boasts five windows to serve customers, which Annichenni hopes will cut down on the time people stand in line.
"We wanted to accommodate our customers so they can spend more time enjoying their food than standing in line," Annichenni said.
Annichenni encouraged the Canfield community to stop by the concession stand and try their food.
"Our food will be fresh to order. We really wanted to change it up. We have a really great menu and we will expand our menu based on comments and suggestions from our customers," Annichenni said.