Canfield 9/10 Little Cardinals open season

Photo
Neighbors | Submitted The Cardinal defense received its first shut out of the season, beating Howland 20-0.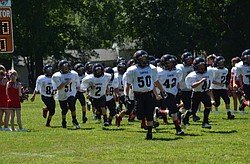 Photo
Neighbors | Submitted The Canfield Little Cardinals took the field to start the 2013 season.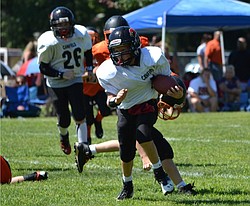 Photo
Neighbors | Submitted .Conor Hritz found the open field on the Howland defense.
The 9/10 year old (120 pound) Canfield Little Cardinals opened the 2013 season with a win over Youngstown Athletic Conference (YAC) rival Howland, 20-0.
Logan Torok had a big day with three touchdowns and a fumble recovery, while the Canfield defense stifled the Tiger offense.
Howland took possession to start the game and drove to the Canfield 45 before turning the ball over on downs. On the first play for Canfield, Logan Torok went off tackle right and cut back 55 yards into the end zone. When the Tigers got the ball back, they fumbled on first down, and Canfield took over on the Tiger 33-yard line.
Luke Holland lead the drive down to the seven yard line when the Cardinals fumbled back to the Tigers. Canfield's defense stayed strong and four plays later gave the ball back to the offense on the Tiger 10-yard line. Four plays later, Torok scampered up the middle for a Canfield touchdown. He then rolled right on the extra point and scored two more to make the score 14-0. Jeff Shaughnessy stole the ball away from Howland on the next possession, but the Cardinals were unable to score again before halftime.
In the third quarter, Torok had a fumble recovery and a 40-yard touchdown run. Then, in the fourth quarter, the Tigers drove down to the Cardinal nine-yard line where Gianni Gaetano recovered a Tiger fumble. The next play, Canfield's Evan Perry went 91 yards to paydirt only to have the score negated by a penalty. For more information on the Canfield Little Cardinals, visit www.canfieldlittlecardinals.com.