Bulldogs bounce Cards; Sabula, Slaven score for Poland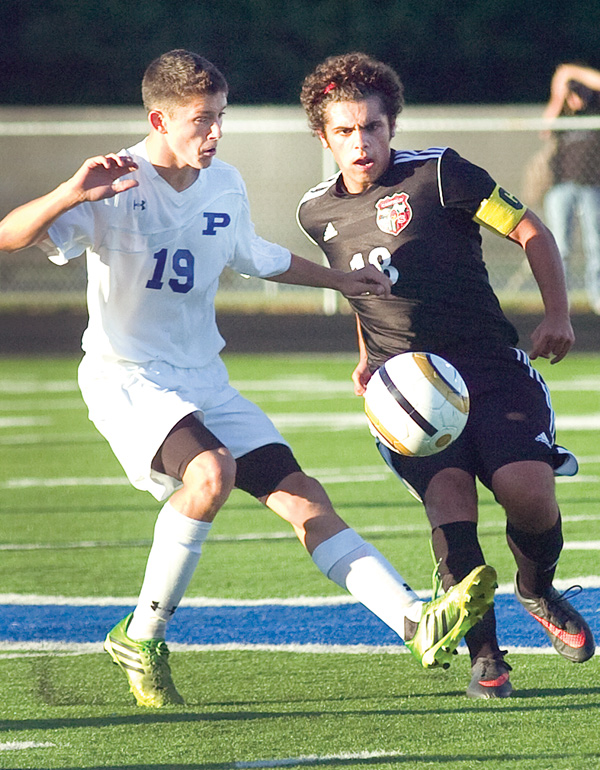 ---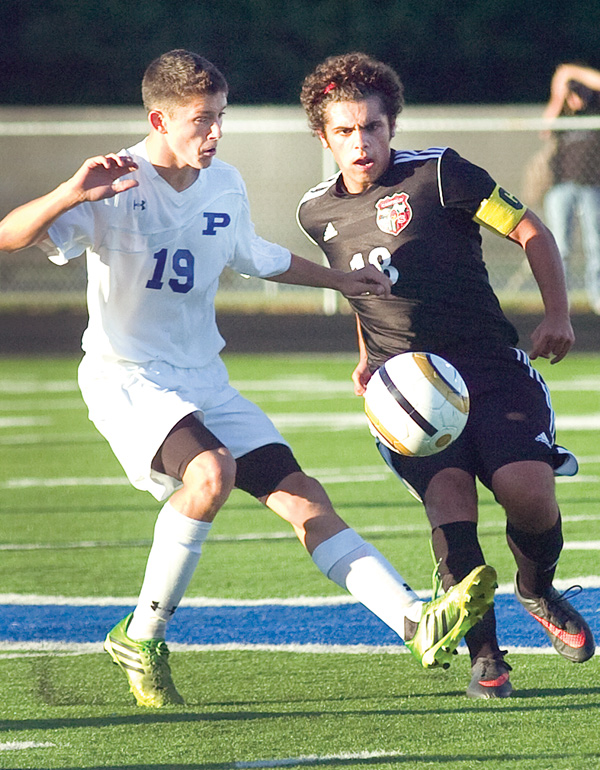 Photo
Poland's Anthony Sabula fights for control of the ball against Canfield's Jona Ghossain during their soccer match Thursday at Dave Pavlansky Field in Poland. Sabula scored a goal for the Bulldogs, who shut out the Cardinals, 2-0.
By STEVE WILAJ
POLAND
Poland boys soccer coach Dave Garcar couldn't exactly explain the way his team played during the first fifteen minutes of Thursday's matchup with Canfield.
"I think we had some . . . umm, I don't know . . . anxiety maybe," Garcar said.
But Garcar sure knew how to describe the way his Bulldogs played the rest of the way.
"We picked it up and played a little bit more possession," he said. "We started getting more numbers behind the ball, which really calmed us down and helped us get a little more developed."
With that adjustment and goals by Anthony Sabula and Matt Slaven, Poland defeated the Cardinals, 2-0, at Dave Pavlansky Field.
"We did start off slow and I think some balls weren't going our way," Slaven said. "But we bounced back. We always talk about how the first 15 or 20 minutes of each half are the most important, so we kept that in our heads and knew we had to come back strong."
Sabula put the Bulldogs ahead 1-0 with a goal at the 8:31 mark of the first half. Slaven made it 2-0 when he converted a penalty kick in the 59th minute.
"At the beginning, I was a little nervous because it wasn't developing as much as I wanted to," Garcar said. "But as the game progressed, we started finding the gaps and the pockets of space, eventually creating enough opportunities to put two goals in."
Slaven was happy with the way Poland (3-1-1) attacked, as well.
"We've been working on keeping possession and doing lots of shooting, so it was good," he said. "We're really working on developing our offense and moving forward during the season."
Meanwhile, Cardinals coach Phil Simone said his team (2-2) had trouble capitalizing.
"We couldn't find our niche in the first half when we went down one," he said. "In the second half, we changed a couple things and were playing OK, but a stupid foul there and it's tough to bounce back when you're down a player."
Canfield sophomore goalkeeper Jeff Joseph held his own with 14 saves.
"He stepped it up and came up with a couple big saves," Simone said. "He's been converted from a field player to a keeper, so it's big for him because he stepped up in some key moments."
In the other goal, sophomore Brian Montgomery made 10 saves for Poland.
"He's playing well beyond his years," Garcar said. "He's learning as he goes throughout and is gaining a ton of experience and improving."
Garcar added that the shutout was paced by a strong senior group on defense.
"It's a lot of communication," he said. "Ian Lange and Kevin Cicuto in the back are covering everything, communicating and keeping everything organized — just trying to prevent the other team from getting good looks."