Bikers pay tribute to veterans in Austintown
---
AUSTINTOWN
Patriot Day Bike Night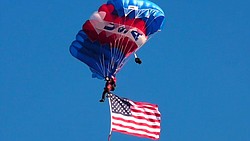 Video
Hundreds of bikers gathers to observe Patriot Day.
Marines Sgt. Dan Rader left Beirut, Lebanon, in October 1983. He was flying home with fellow servicemen, but when they were just off the coast of South Carolina, the news hit.
Suicide bombers had driven trucks into two buildings that housed American and French troops who were part of the Multinational Force in the Lebanese Civil War. The Marines who relieved them of their duty were dead or injured.
In the American barracks, 241 servicemen died — 220 Marines, 18 sailors and three soldiers. Rader had to go back to Beirut.
Rader and his wife, Glenna, have a son, Dan Rader III, who was also a Marine — at Camp Lejeune from 2005 to 2009. So Thursday evening, the Leetonia couple rode their 2007 Harley-Davidson Wide Glide to Austintown for Quaker Steak & Lube's Seventh Annual Patriot Day Bike Night.
They were part of a large crowd that gathered to salute veterans from World War II, the Korean War, the Vietnam War, Iraq/Afghanistan wars, Desert Storm and Beirut.
Eleven veterans were honored on a stage in front of the crowd, but only 10 were seated there.
While Rader would eventually return home from Beirut, Marine Edward A. Johnston of Struthers would not. He died Oct. 23, 1983, at 6:22 a.m. in the bombed barracks. His wife, Marilyn Buckner, now of Vienna, accepted the accolades for him.
They were married five years and had a 2-year-old daughter when he died.
"He was a great husband and a great father," Buckner told the crowd.
People said their daughter was too young to understand. "But she remembers," Buckner said.
Johnston's fellow veterans were commended at the ceremony for a job that Sgt. Leo Kruise of the Marines Air Wing, World War II, called "difficult, dangerous and disheartening."
An 11-year-old singer, Cortney McKay of Hubbard, sang patriotic songs; John Schmidt sang "This is America — Our Heart and Soul; skydiver Jim Drummond, a battalion chief in the Youngstown Fire Department and a 7-time U.S. Team Accuracy champion, dropped in with an American flag; Capt. Don Jordan of Nimishillen Township, Ohio, brought a fire truck that was used to help evacuate 12,000 people from the World Trade Center on 9/11; and a 21-gun salute closed the occasion.
Roughly 200 bikers rumbled in to participate. Ken Jakubec, Steak & Lube's manager, organized the event. Mike Case, of 21 WFMJ TV, was master of ceremonies.
It was "a very emotional, but proper night," Case said.