Winner Aviation key to airport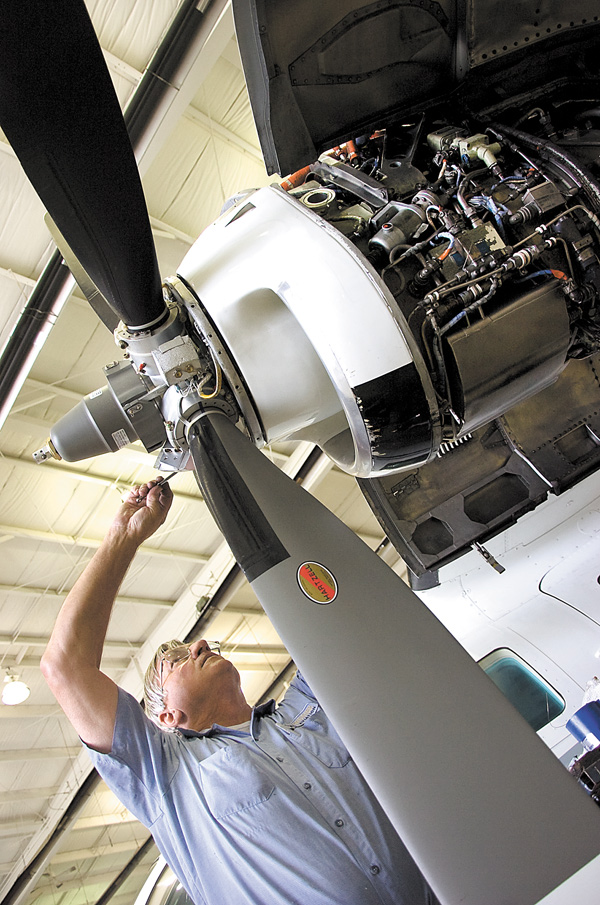 ---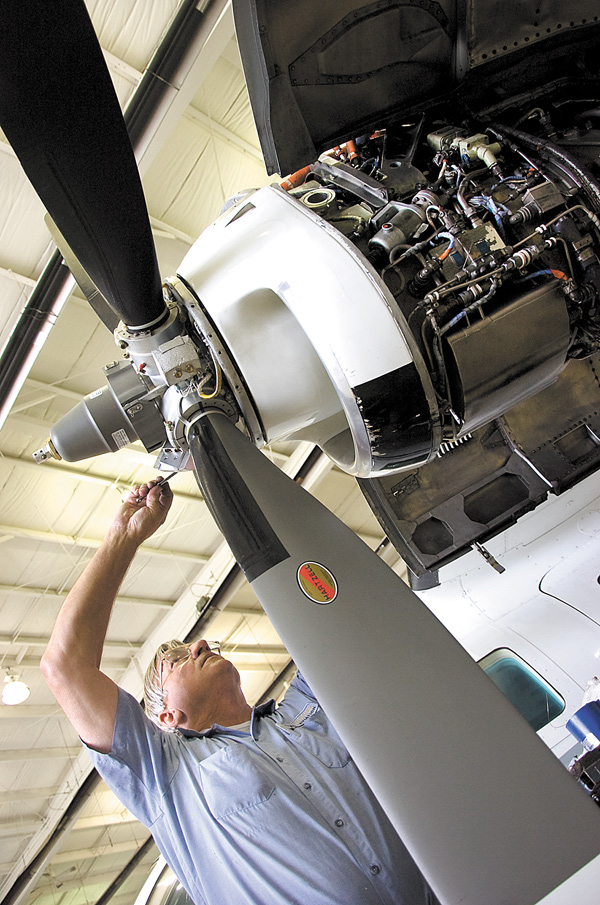 Photo
Ron Butler, engine-shop supervisor for Winner Aviation, lubricates a propeller on a MU2 B40 aircraft at Youngstown-Warren Regional Airport in Vienna. Winner Aviation has been at the airport since the mid-1990s, and the staff performs myriad duties there.
By BURTON SPEAKMAN
news@vindy.com
VIENNA
The typical traveler who flies from Youngstown-Warren Regional Airport probably has little idea how much work is done by staff from
Winner Aviation.
The company takes tickets, fills planes with fuel, handles luggage, charter flights and
repairs and maintains planes.
While commercial flights aren't daily, Winner Aviation typically has private flights coming and going several times a day.
Since starting at the airport in 1995, the company has been able to grow to the point where it is essential to the airport's operation.
Winner Aviation's next goal is to replace three of its current hangars with new buildings, said Rick Hale, president and CEO who took over company ownership in 2008. The buildings are old enough that they need to be replaced. There is really no way to repair them, he said.
"People come in here with multimillion-
dollar planes, and they expect a certain level of appearance," which currently is not offered, he said. "Our goal is to add an entirely new front door to the airport."
The development of the oil and gas industry, including the number of employees and managers flying to Youngstown from Oklahoma, Texas, New Mexico and Louisiana, has increased the number of private planes coming to the airport, Hale said.
Facilities must be
improved to meet the
increased demand, he said.
"These old hangars are really past their useful life," Hale said. The shale play also provides an opportunity for the airport to pay for improvements, he said.
Hale said he wants the airport to either pay to build new hangars or help him acquire low-interest loans to build them himself.
The airport has a lot of land that could be leased for mineral rights to help
improve the airport, he said.
"I'm not saying use all of it, just some of it to make improvements," Hale said.
More commercial flights would aid the airport, but it remains to be seen if
Winner would be involved, he said.
Winner Aviation only benefits if a new carrier contracts with the com-
pany, which has an agreement with Allegiant Air to provide support services, Hale said.
Previous companies at the airport had used their own staff, he said.
Dan Dickten, the airport's aviation director, said he talks about Winner Aviation services whenever they talk to potential new carriers.
The future of the airport and Winner Aviation are intertwined.
There is significant room for expansion and improvements at the airport, Hale said.
The issue is time and money.
"To open the south side of the airport would require a new road, sewage, electrical and a lot of infrastructure cost," he said.
Winner Aviation has been with the airport through both good times and bad, Hale said. In the mid-1990s, when Winner started, the airport was losing flights. During the past few years, however, things have
improved.
The work of Winner Aviation is essential to the airport's ongoing efforts,
Dickten said.
"Our success is their success and their success is our success," he said.
The company also has a great reputation for plane repair, Dickten said.

"People from all over the nation, and particularly the Midwest, bring their aircraft to Winner Aviation for maintenance," he said.
The airport's goal is to sign Winner to a long-term lease of 20 years or more to keep the business at the
facility, Dickten said.
"We've made a lot of progress here at the airport. I'd like to see that continue," Hale said.
Private flights and fixing airplanes is big business for Winner and is growing because of increases in the shale industry and overall economic development.
The company currently operates two hangar buildings that are used for maintenance and repair.
There also is a perception about people who fly
private planes that isn't true, Hale said.
"There is this idea that they're all corporate
executives and 'fat cats,' but that isn't the case," he said. "There, of course, is some of that element."
The majority of people who fly on private planes are engineers, salesmen or other employees who a company needs to get to multiple locations quickly, Hale added.