Pitch perfect: Lakeview's Alli Pavlik has 100-plus goals
---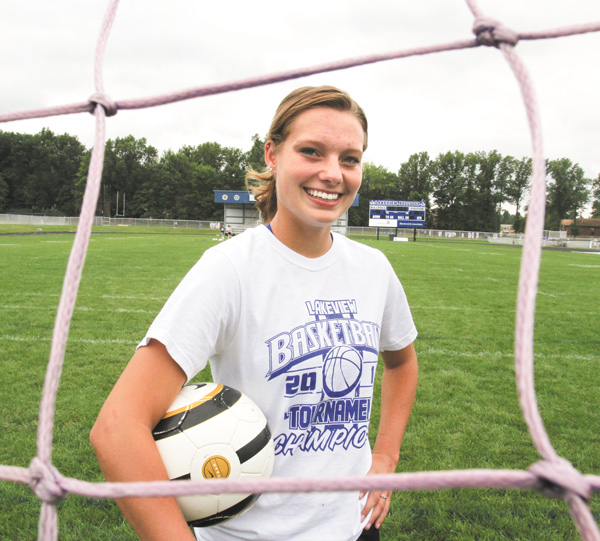 Photo
Lakeview soccer standout Alli Pavlik has scored 110 goals in her four varsity seasons with Bulldogs.
By Kevin Connelly
CORTLAND
Lakeview High senior forward Alli Pavlik wants people to remember her name once she leaves and moves on to bigger and better challenges.
A four-year starter on the Bulldogs' girls soccer team, Pavlik has done a remarkable job getting her name on the stat sheet and on her opponents' minds. At the start of this season, Pavlik was sitting at 94 career goals. It took her just three games into the 2013 season to reach, and surpass the century mark, as she's currently sitting at 110 goals.
Shawn Varley has been the girls soccer coach at Lakeview for the better part of a decade. He said he's been watching Pavlik since she was in the fifth grade and even then he could tell she was going to be a really talented high school player.
"When you saw her play in fifth grade, there was a lot of determination and she set herself apart," Varley said. "And it was the same thing in sixth grade, and then seventh grade, and then eighth grade.
"She always has continued to set herself apart from her peers and excelled when she's playing in any sport."
A basketball standout as well, Pavlik has used the two sports' similarities to improve her skills. One sport has always stood above the rest, though.
"Honestly, I think ever since I was little I knew that [soccer] was just my thing," Pavlik said. "I told myself freshman year, 'I'm going to be somebody that I want people to remember' and I just stuck to that goal."
Pavlik trains every winter and said at this point it's pretty much "soccer 24/7" now that she's in her final year at Lakeview. As a freshman, she scored 21 goals to go along with four assists. But she had a different mindset on the pitch then, as she does now.
"Her soccer IQ has gone up a great deal," Varley said. "Her freshman year, it was give me the ball, I'm gonna try and go through four players and score, and to be honest she was successful doing that for quite some time."
When Alli was a sophomore, her younger sister Abby joined the team and their sibling connection resulted in a 35-goal output. Then last year, Alli improved that number by three more goals to put her at 94 for her career — a number she says wouldn't have been possible without her sister's help.
"She's been with me since I was little and honestly, if I didn't have her in the center midfield I would not have any of the accomplishments that I do today because she's just unbelievable," Alli said.
Abby, a junior, wants to make sure the two of them make the most of their final season playing together with their special connection.
"We can look at each other and I kind of have a feel of where she's gonna go," Abby said. "I can see where to put the ball, because I know she can get there."
With any sibling relationship, occasionally it can get extra competitive whether it's on the pitch or off. However that's not to say that little sister can't be proud of big sister's accomplishments.
"I mean, obviously she's ahead of me," Abby said sheepishly. "But yeah, even at practices we always go against each other and it's a lot of fun. I more support her than try to one-up her, if anything."
Alli said she's been glad to have someone there to help her out with the college recruiting process. She's still deciding between a number of schools, including Ohio Dominican, Youngstown State and Cleveland State, among others.
And as she continues to add to her goal total this season, she'll be sure to add to her scholarship list as well.
Whether it's been her determination in the fifth grade, or her soccer IQ as a senior, her coach continues to marvel at the player, and person, she's become.
"She's always getting it done, but it's that mentality that she wants to score and she wants to win the game," Varley said. "She's always been that driven.
"She is the leader of this team, no doubt about it."