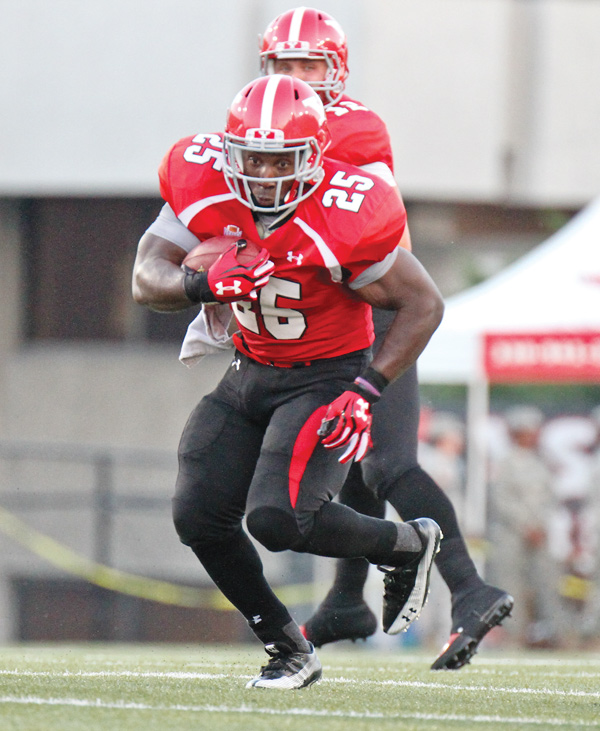 ---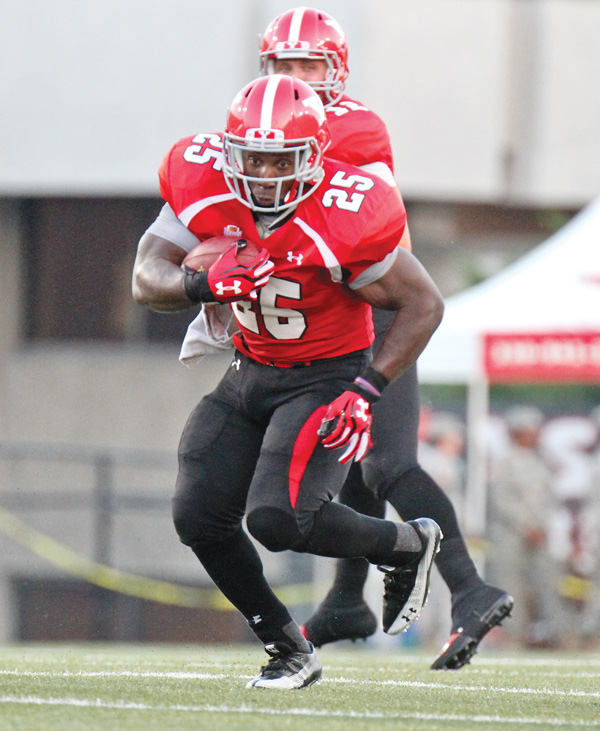 Photo
YSU's Torrian Pace (25) looks for room to run during first-half action last Thursday against Dayton.
By Joe Scalzo
YOUNGSTOWN
Torrian Pace is a fifth-year senior and one of the nicest and most well-liked players on Youngstown State's football roster, which means he was a perfect candidate to talk to about this week's opponent, Morehead State.
"What we need to keep in mind is not looking on down the road to those [league] teams," Pace said. "We got to take each week one game at a time and, most importantly, one day at a time as we talk about and emphasize, especially this year. Improving each and every day on one thing.
"I think that's the main thing: taking one game at a time, not underestimating what's in front of us. If we look on down the road and not focus on who we're playing this week, then our mind's going to be messed up and we're going to not perform like we're supposed to."
That, readers, is one impressive chunk of coach-speak.
Truth is, Morehead State is to this season what Valparaiso was to the last two seasons: an early-season tune-up for the Penguins.
Like YSU's first-week opponent, Dayton, the Eagles are a non-scholarship FCS team from the Pioneer Football League. Morehead State is coming off a 13-10 loss to Pikeville (Ky.), a NAIA team that finished the 2012 season on a seven-game losing streak.
YSU coach Eric Wolford always tries to open his weekly press conferences by talking up his opponent, but even he struggled on Tuesday.
"I think the thing that's intriguing about this game is, I looked at their two-deep [depth chart] and they've got 18 players on their two-deep from Ohio, so they'll obviously be excited to come here and play," Wolford said.
Like many other college football teams (most notably Oregon), Morehead State runs an up-tempo offense. The Eagles ran 85 plays last week — about 15 more than an average team — but managed just 10 points due to three turnovers.
It's a game the Penguins should win and win big. And with Michigan State looming next week, it's important they get a bigger game from their offense and quarterback Kurt Hess.
Hess completed just 9 of 19 passes for 73 yards and two TDs last week.
"We still got some things we need to work on," Wolford said. "We were really disappointed at some things we did on offense last week that can't happen. At the end of the day, it can't happen."
Peterman reinstated
Wolford said senior cornerback Dale Peterman was reinstated on Saturday after being suspended indefinitely in late August following his arrest on two outstanding warrants.
Charges from the more serious of the two incidents (charges of marijuana possession, speeding, driving under suspension and driving without a seat belt at a May 2012 traffic stop) were dropped when Warren officials determined a male relative of Peterman's impersonated him at a traffic stop.
Peterman pleaded guilty to the other charges (driving under suspension, failing to display proper auto registration information and not using a proper child restraint at a Dec. 28 traffic stop) and will have his sentence vacated pending successful completion of Girard's Suspended License Intervention Program.
Peterman injured his knee during training camp so it's unlikely he'll be back until conference play begins on Sept. 28, Wolford said.
"My initial thought was we're not going to rush it," Wolford said. "I don't want to put him back in there and get reinjured and miss four or five conference games."
Peterman's replacement, DeVon McKoy, made three tackles and broke up a pass against Dayton.