Published: Wed, September 4, 2013 @ 6:00 p.m.
Video Set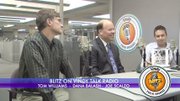 Tom Williams, Dana Balash, and Joe Scalzo talk about the second week of football in the valley.
Joe Scalzo and Tom Williams are joined by Dana Balash of WFMJ. The group discusses recruiting, recaps week 4 of local high school football, and looks ahead to week 5.