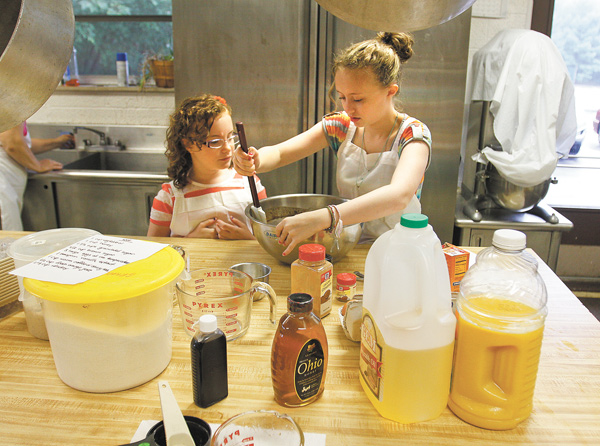 ---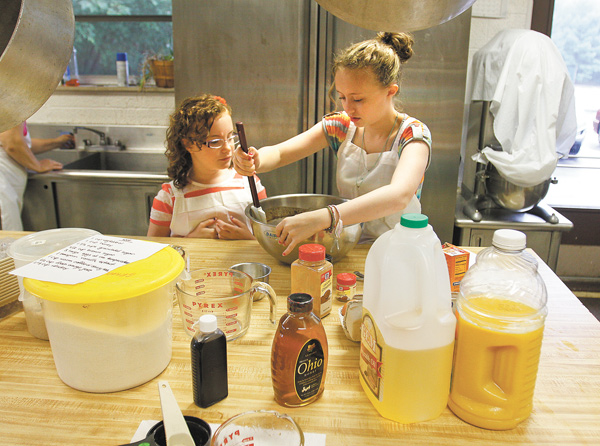 Photo
Anna Sherman, 13, stirs ingredients while her 9-year-old sister Hattie watches as the two help their mother, Susan Hura, during a baking session of honey cakes for Rosh Hashanah, which begins at sundown today. Congregation Ohev Tzedek in Boardman offered the cakes for sale. A Rosh Hashanah tradition is to eat something with honey to ensure a "sweet" new year. Below, pans of baked honey cakes are removed from the oven.
By LINDA M. LINONIS | linonis@vindy.com
Boardman
L'shana tovah sends a greeting for a good and sweet year for Jews around the world as they begin the observance of Rosh Hashanah at sundown today.
Rosh Hashanah means "head of the year," said Rabbi Josh Jacobs-Velde of Congregation Ohev Tzedek, adding it is the year 5774 according to Jewish reckoning. It marks the beginning of the new month of Tishrei.
Rosh Hashanah culminates with the kol nidre service Sept. 13 and Yom Kippur services Sept. 14.
One of the traditions of Rosh Hashanah is to eat apples and honey to ensure a "sweet" new year. This year at the synagogue, Susan Hura, kitchen coordinator, offered honey cakes for sale. "Though it's a traditional food, this congregation didn't have a tradition with them," Hura said, adding she thought it would be a nice project.
Recently at the temple kitchen, Hura was assisted by her daughters, Anna and Hattie Sherman and Elaine Opsitnik, housekeeper at the temple, in the baking. She said eating apples and honey at the new year "is very traditional."
Most families have recipes incorporating honey, and honey cakes are among the desserts.
Hura, who grew up in the Valley and returned to the synagogue three years ago after living mostly in Texas, also took over the kitchen as coordinator about 18 months ago. "I love to cook," she said.
Hura said she and Opsitnik tried a honey-cake recipe they used last year, but then used one they found on a food blog, Smitten Kitchen, which is a "home cooking weblog from a tiny kitchen in New York City." "This recipe rises very nicely," Hura said.
Anna, 13, and Hattie, 9, decorated bags with drawings of apples and honey, and the cakes will be delivered in them.
While the honey cakes were cooling, Hura prepared a kugel, a noodle pudding. She said the dairy-based recipe is a combination of noodles, eggs, sour cream, cottage cheese, cinnamon and grated apples. "Every Jewish cook has a recipe for it," she said. "Everyone has their own take on it."
Hura said it was important to her and the temple to use as many local ingredients as possible. So the recipe included locally hatched brown eggs, Valley-grown apples and local honey. "It's silly not to use what's here," she said.
Hura said her own love of cooking was derived from multiple sources. "My mom, other people around me were good cooks," she said, noting her Aunt Josie, now deceased, was a major influence. "She taught me about hospitality," Hura said, adding her aunt came from the Italian side of the family.
She said that hospitality is evidenced in the kiddish, a light meal often served at synagogues after services, which will be a part of services for the High Holidays. Hura said, "This mitzvah, which translates into 'a good thing to do,' reflects our values."
Hura said most guests at a Jewish home leave with care packages of food. "It's important to us," she said. A family meal for Rosh Hashanah might include a beef brisket and carrots with a honey glaze.
Her daughters like helping her. Anna enjoys the samples and the fun in making a recipe, and Hattie likes to do the mixing and taste test.
Rabbi Josh said the tradition of apples and honey is based on text from High Holy Day prayer book. It reads "May it be Your will, Lord, our God and the God of our ancestors, that You renew for us a good and sweet year."
He said Rosh Hashanah is a "time to reflect on our lives and examine our deeds."
The rabbi described the reflective time as "an alignment of your life." "It's a time to take stock and change or improve your actions," he said. "It's a time to be aware of misdeeds and transgressions and resolve to change."
Yom Kippur, the day of atonement, is the time to "clear away" the mistakes and start again. "The tradition uses the plural ... the collective sense," he said, adding that no one is singled out for mistakes but all acknowledge making them.
"It's clearing the balance sheet," Rabbi Josh said. "We're realigning ourselves and seeing the godliness in each of us."
The Book of Remembrance, remembering loved ones and ancestors who have passed on, is another element of the day.
By the secular calendar, Rosh Hashanah is early this year. On the sacred scroll of days, it is in tune with the season.
"Judaism is based on a 19-year calendar cycle," Rabbi Josh said, adding it's a lunar system with adjustments including leap months. "We trust in God it works out."