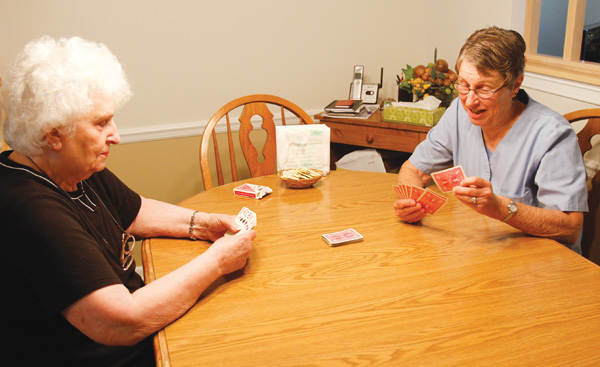 ---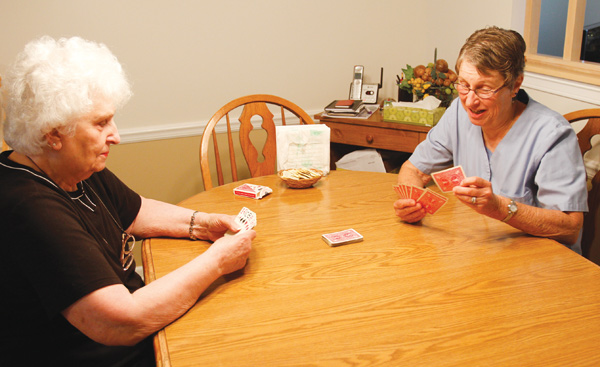 Photo
Caregiver Pam Lawrence, right, with Home Instead Senior Care, plays cards with Emma Baumstark. Austintown-based Home Instead says its caregivers are bonded and go through an extensive background check.
YOUNGSTOWN
Caregivers are saviors. They take care of husbands, wives, children, parents, even friends disabled by disease or dementia.
They do this without pay and without conditions.
But out of love and duty and just the goodness of their heart, displaying seemingly infinite patience and love with parents or life partners or children, they continue day by day.
While there can be rewards, being a caregiver comes with a price.
SandRA's story
"I want to take care of my husband," said Sandra Sinn of Lordstown.
"I love him," said Sandra, in her mid-70s, whose husband Jim, 74, an accountant who retired from General Motors Lordstown, is paralyzed and bedridden with advanced progressive supra- nuclear palsy or PSP.
Diagnosed in 2008, Jim went from a cane to a walker to a wheelchair before becoming paralyzed nearly 21 months ago.
According to the Mayo Clinic website, PSP is a rare brain disorder that causes serious problems with walking, balance and eye movements and slowly worsens over time. It can lead to life-threatening complications such as pneumonia, swallowing problems and paralysis.
Jim is alert mentally, but he can't communicate verbally. He knows things, but he can't speak except to say a word or two very softly. All he can do is smile and say "yes" or "bye" when friends visit.
Despite his inability to communicate, "I just know what he needs," Sandra said.
She said the hardest part of being a caregiver is the lack of freedom — the ability to come and go as she pleases.
"I don't want to leave the house for fear I'll get in an accident and be unconscious and they won't know he's home," she said.
"I miss companionship ... to have someone to go with anywhere ... grocery shopping or to the mall. I gave up church, which was a big thing for me. When I go to something like a graduation, I have to have someone who can attend to his needs and make sure he doesn't choke."
But she said her husband is "absolutely wonderful to take care of. He doesn't get angry. Because he can't talk, the intimacy is gone. But I joke with him and sometimes he laughs. He's such a good patient."
Sandra had to learn to do all the things Jim used to do — pay bills, make household and medical decisions, mow the lawn, take out the garbage. She recently made arrangements to have a hard-wired generator installed in case electrical power is lost.
While Sandra feels alone, she is not without help.
An aide comes from Mahoning Valley Infusion seven days a week to bathe Jim; a nurse comes twice a week and a doctor every three months so he can stay in the hospice program. They are wonderful, she said.
"I just ask why did this have to happen to Jim, someone who is so good? What did I do that we have this dealt to us? Then I realize there are other people in the same situation," she said. "I've gotten used to it, but it was extremely hard at first. I had never had to take care of anybody in bed before. But I'm on a schedule now, which is much easier."
"It's like living alone, but you are responsible for someone else ... a whole different thing than really being alone. You just have to find a way to adapt and know you are doing a good thing for someone you care about," Sandra said.
Marilyn's story
Marilyn King is caregiver for her husband, Dr. Christopher King, a former eye surgeon in Alliance, who was diagnosed with Alzheimer's disease in 2007.
They live in an independent-living villa at Copeland Oaks retirement and senior assisted-living community in Sebring. The couple, both in their late 70s, met while attending Mount Union College — he preparing to study ophthalmology at Ohio State University, and she getting a bachelor of arts degree in nursing.
After graduation, he was drafted into the Army and served stateside in its Medical Corps during the Vietnam War. He then went on to Conga Island while serving in the Army Reserve, achieving the rank of lieutenant colonel.
He returned to Alliance and joined Ohio Eye Alliance, a practice started by his grandfather in 1895, and one in which his father and uncle also practiced.
Dr. King retired in 1995, and they operated a tree farm and a bed and breakfast on the family farm in Carroll County, selling out about four months ago to move to Copeland Oaks when it became too much to take care of the property and machinery.
Like Sandra, as her husband's caretaker, Marilyn has taken over the family finances.
"Alzheimer's doesn't enable you to focus very well," she explained.
She said, however, it has been easier since moving to Copeland Oaks and being around more people and resources, such as the Alzheimer's Association, and more community support.
"We've made quite a few new friends, and that has helped," she said.
"Anything that has to do with planning, I've had to take over. He remembers a lot of things from the past; it's the recent memory that is lost," she said.
To this point, Marilyn said she has not experienced the lack of freedom that Sandra talked about, but says she knows it is coming.
Marilyn said people with Alzheimer's disease also have to deal with the stigma that accompanies any mental issue.
"I think you do as much as you possibly can for your loved one," she said. "Don't be afraid that you won't get something done. If your loved one wants to do something, do it. Doing things helps keep the person and caregiver in touch so they don't feel so isolated.
"When my husband gets frustrated, I try to be sympathetic and understand. I acknowledge his feelings and his frustration," she said.
"The positive in the situation is that you know you are going through this together and it gives you a certain strength. We're people of faith, so a lot of things I just let God take care of," Marilyn added.