Silverman's artistic talents promote Ohio State football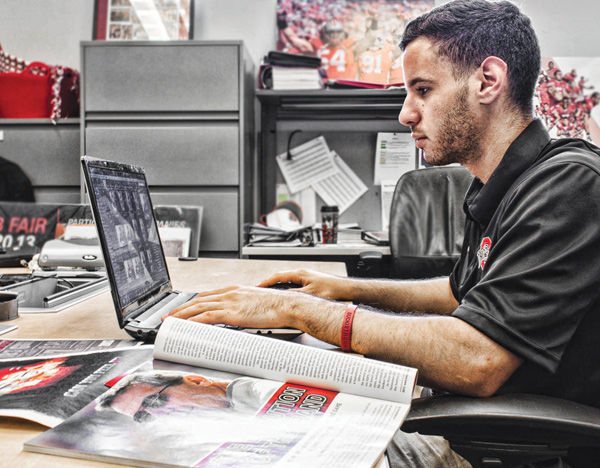 ---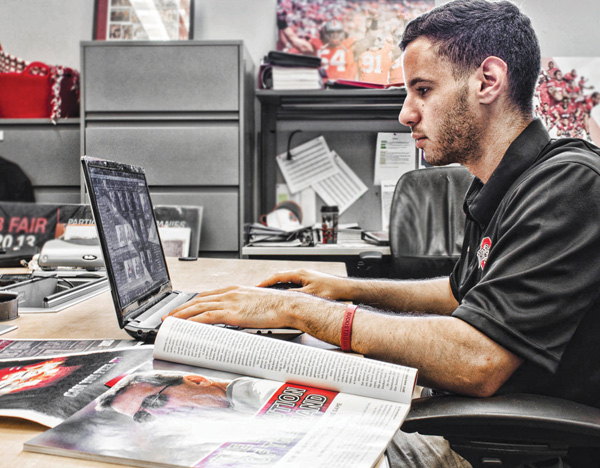 Photo
Liberty High and Ohio State graduate Sam Silverman works in his office in the Woody Hayes Athletic Center in Columbus.
By Ryan Buck
Youngstown
The Ohio State University brand is as powerful as any in America, making the campus a very attractive destination for many of the nation's top high school athletes.
Youngstown native Sam Silverman, 23, has pioneered his own career niche to make sure it remains that way.
Silverman, a 2012 graduate of Ohio State, is an OSU Athletics graphic designer. It is a position created for him in June 2012.
From his sketch book and office iMac in the football fortress that is the Woody Hayes Athletic Center, he creates promotional graphics bound for mailboxes and email accounts of Buckeyes' recruits.
His work is new to the OSU athletic department, an innovative way to reach out to prospective student-athletes.
"People have realized that these players get a lot of letters and it's nice to provide them with visuals," Silverman said by phone recently. "It's definitely a new aspect of college football and it's something I've never really seen. A lot of people have come up to me and said that it's something new and really interesting and it's engaging."
Silverman and OSU Football Director of Player Personnel Mark Pantoni exchange ideas on each project before Silverman hops on his computer and gets to work. They are looking for ways to make the school and its sports programs stand out from the rest once the piles of letters and electronic messages delivered to recruits are opened.
"Mark will normally have an idea for what he's looking for," Silverman said. "That can be anything that promotes the coaches, or the players, the facilities, individual achievements, team achievements, anything that we think will resonate with recruits and Buckeye Nation. He'll give me some ideas or some quotes and I'll create visuals for it."
Pantoni, who followed Urban Meyer from the University of Florida to Ohio State before the 2012 football season, values his protege's talents.
"Sam has done a great job capturing the enthusiasm and excitement of Ohio State football and creating attention-grabbing designs and works of art," Pantoni said via email. "He is a talented artist and a pleasure to work with."
Silverman comes from an artistic family. Older brother, Shawn, is a marketing manager at Comedy Central and his younger sister, Jaclyn, is an aspiring photographer. Sam had a knack for the arts at a young age and enriched it while at Liberty High School before enrolling at Ohio State. Once there, he had to earn his place in the school's industrial design program.
"I think there are about 70 applicants and out of 70, they only pick about 19 and I was one of those 19," he said. "Product design is something I got into because I wanted to do art in college, but not necessarily major in art. I wanted to draw with a purpose. I got really into design and liked the thought process and the ability to solve problems creatively to help everyone's every day needs."
Late in his college tenure, juggling his avocation in art with his career ambitions opened the door to Pantoni's office.
"I kind of just dabbled with graphic design," Silverman said. "It was more of a hobby rather than me studying it, and that led me to the football team. There was an email that was sent out throughout the design department and it said that, 'We're looking for some help in the design area. We're looking for people to promote our program.' I sent an email back and met with them. Ever since then I've been working here."
His designs have flooded the Internet with the aid of his social media savvy. He posts his work to Facebook, Instagram and Twitter once complete.
"After making these graphics I realized I should send them out because they're all for the fans and players and recruits. So I started branding my designs as #SammySilvDesigns and I would tag all my designs and make sure the coaches in the program were tagged. They've been very supportive of me engaging social media and keeping Ohio State relevant to the fans and keeping the football program in their minds 24-7."
The football staff's consistent lauding and distribution of his art led to opportunities with the basketball team and others. He now spends half of his work days devoted to football, then turns his attention elsewhere in the afternoons.
"I like football, but there's only so much you can do," Silverman said. "I can get a feel of all the other sports and see their success and their achievements. I went to school here and I love it here. It's a home away from home. I wake up excited going to work every day."