Morton pitches Pirates past Brewers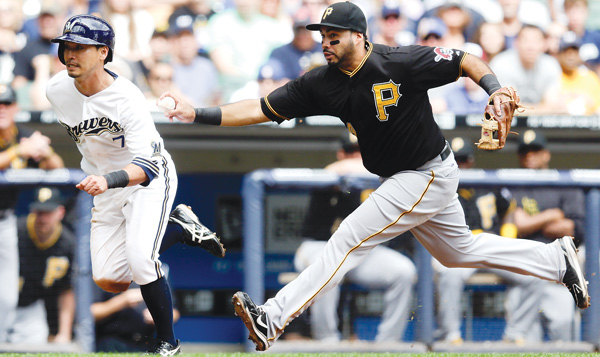 ---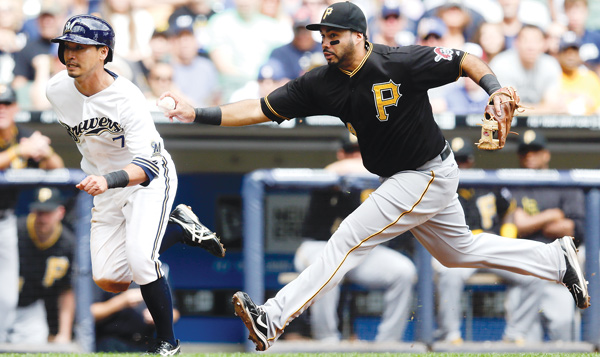 Photo
Pittsburgh Pirates third baseman Pedro Alvarez tags out the Milwaukee Brewers' Norichika Aoki during the third inning of a game Monday in Milwaukee. Aoki tried to score from third on a hit by Jonathan Lucroy.
Associated Press
MILWAUKEE
Charlie Morton is doing his part to ensure that the Pittsburgh Pirates end their 20-year playoff drought.
Morton won his fourth consecutive decision, a career best, pitching seven strong innings to help the Pirates retake the NL Central lead with a 5-2 win over the Milwaukee Brewers on Monday.
"I was executing pitches and going out and trying to attack guys," Morton said. "I was able to throw different pitches in the zone."
Morton (7-3) gave up seven hits and one earned run. He walked two and struck out six while winning his fourth straight decision. He added a base hit, his first two sacrifice bunts of the season and scored a run for good measure.
Pirates manager Clint Hurdle said Morton turned in a "blue-collar effort" for his club, which improved to 23 games over .500 and is now just one win away from breaking a two-decade long streak of losing seasons.
"Charlie has gotten to a very good place," Hurdle said. "He was efficient but he had to work today except for the sixth, when he blew them away."
Morton, who struck out the side in the sixth, said it's important that he mix in other pitches to complement his sinker, which tends to be his main pitch.
"I get hurt late in games by throwing too many sinkers," Morton said. "I need to throw more off-speed pitches. Guys are going to be all over my sinkers if I keep throwing one pitch."
Morton has allowed two runs or fewer in each of his last five starts, going 4-0 with a 1.71 earned run average and is 6-1 with a 2.90 ERA since the All-Star break.
"We lacked the big hits but you've got a big pitcher out there," Milwaukee manager Ron Roenicke said. "(Morton) is really good. He throws a great sinker and pounds the right-handers in with it. It's always down in the zone. He's got a good curveball and a good changeup. That's a really nice pitcher they have."
Neil Walker hit a three-run homer and Jose Tabata added three hits, including a pair of run-scoring singles, as the Pirates moved one game ahead of St. Louis, which lost earlier in the day at Cincinnati. Pittsburgh won the opener of a nine-game road trip.
Walker broke it open with his homer off reliever Alfredo Figaro in the seventh for a 5-1 lead.
"I knew the guy threw hard and threw a lot of fastballs," Walker said. "I just wanted to hit something well and fortunately I did."
Mark Melancon pitched the ninth for his 10th save in 12 chances.
Milwaukee starter Tyler Thornburg (1-1) allowed two runs and six hits in six innings.
"I felt pretty good going out there. I'm definitely happy any time you can give your team an opportunity to win a ball game," Thornburg said.
Pittsburgh improved to 11-6 against Milwaukee this season, marking its highest win total against the Brewers since going 12-6 in 2004.
Halting a lengthy losing trend against Milwaukee has bolstered the Pirates playoff run this season, Clint Barmes said.