Vacations mark golden milestone for Appuleses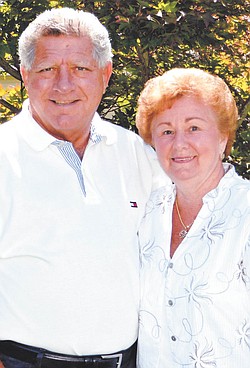 Photo
Mr. and Mrs. Dominic Appulese
AUSTINTOWN
Dominic J. and Mary Ann Appulese of Austintown celebrated the 50th anniversary of their wedding with family vacations to Tannin by the Sea, on the Outer Banks in Duck, N.C., and an extended trip to New York City.
Hosting the festive trips were their family.
The couple's children are Lisa Emrich (the late Timothy Emrich) of St. Charles, Mo.; Jennifer and Franck Divet of Chanteloup, France; and Dominic P. and Sherrie Appulese of Hilliard, Ohio.
Seven grandchildren also round out the family: Alexander Emrich, Dr. Jessica Emrich, Samantha Emrich, Emily Divet, Tess Divet, Elizabeth Appulese and Malia Appulese.
Mrs. Appulese, the former Mary Ann Bart, worked as a manager's assistant for Gorant Candies in Austintown before retiring in 1999.
Her husband worked as a central office technician for AT&T in Youngstown before he retired in 1999.
He belongs to Fraternal Order of Eagles Aerie 3298 and Catholic War Veterans Post 1292.
He is a veteran of the U.S. Marine Corps.
The couple are members of Holy Name of Jesus-Our Lady of Sorrows Parish in Youngstown.
They were married Aug. 24, 1963, at Holy Name.
On June 2 the Appuleses attended St. Columba Cathedral, where the Bishop George V. Murry celebrated a wedding anniversary Mass.