Michaelses' 50th celebrated at T.J.'s, Holiday Inn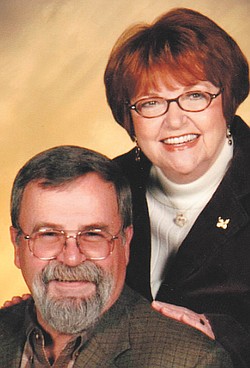 Photo
Mr. and Mrs. Glen Michaels
YOUNGSTOWN
Mr. and Mrs. Glen Michaels of Youngstown celebrated their 50th anniversary Aug. 25 at T.J.'s at the Holiday Inn in Boardman.
Hosts were their children: Colleen (Keith) Morris of Streetsboro, Ohio; G. Brian Michaels and Kathy (Ron) Ziegler, both of Poland.
The couple also have six grandchildren and one great-grandchild.
The former Judith Sullivan married Mr. Michaels Aug. 24, 1963, at St. Charles Church in Boardman.
The couple are members of the church.
Mrs. Michaels retired in 2012 as a hairstylist for Caprice Health Care Center in North Lima.
She is a sacristan and eucharistic minister at the church.
Mr. Michaels retired in 1995 as a machinist for Van Huffel Tube Corp. in Warren.
He is an officer of Bessemer Rod and Gun Club and is a U.S. Air Force veteran who served from 1957 to 1961.