Matises honored with dinner for 50th anniversary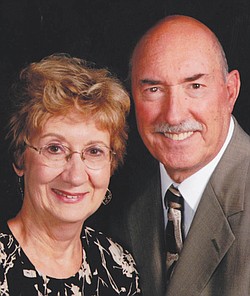 Photo
Mr. and Mrs. Richard Matis
POLAND
Mr. and Mrs. Richard Matis of Poland were honored Aug. 31 for their 50th wedding anniversary with a Mass at Holy Family Church followed by dinner hosted by their children and spouses at Caff Capri in Boardman.
Their children are James R. Matis of Poland; Margaret M. (Scott) Reed of Worthington, Ohio; and Timothy P. (Laura) Matis of Louisville, Ky.
The couple have four grandchildren: Allison, Lydia, Natalie and Sidney.
Mr. Matis married the former Mary Alice Tamburrino Aug. 24, 1963, at Holy Family Church in Poland.
The couple are members of the church, where they serve as lay ministers.
Mrs. Matis was a bookkeeper for Beckwith and Scheetz in Poland; E.K. Williams in Louisville; and Jones Accounting and Darrows & Co., both in North Lima. She retired in 2012. She is a member of Poland K-C Ettes 4471.
Mr. Matis was an estimator for Commercial Shearing in Youngstown; a purchasing agent for Commercial Pantex in Louisville; a salesman at J.C. Penney in Boardman; and a purchasing manager for Press Works in Alliance.
He also worked in stock and sales for Bermann Electric in Boardman.
He retired in 2010.
Mr. Matis is working for Becker Funeral Homes.
He is a past grand knight of the Knights of Columbus Poland Council 4471 and is past president of Holy Family School PTA and Poland High School STEP.
He also was a member of the parish council and Holy Family Golf League.