Family dinner honors Wellses' 70th anniversary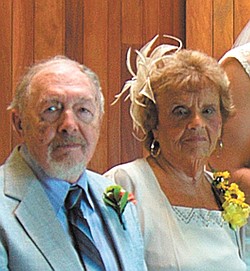 Photo
STRUTHERS
Former Struthers residents Norma and Jerry Wells, now of Largo, Fla., were honored for their 70th anniversary with a family dinner at the home of their son and daughter-in-law, Jeff and Susan Wells of Largo.
Their children Beck (John) Chmura of Lowellville and Jerri Lee (Skip) Smith of Struthers hosted a party July 27 at Gianna's Catering in Lowellville. Their other children are Duane (Alberta) Wells and Ted (Jeanne) Wells, all of Largo.
The couple has 15 grandchildren, 18 great-grandchildren and two great-great-grandchildren.
Mr. Wells married the former Norma Lee Williams July 28, 1943, at the Chapel of Friendly Bells in Youngstown.
The couple retired from a family business in Clearwater, Fla.
Mr. Wells is a U.S. Army Air Forces veteran and served in the 502nd Squadron during World War II.