Family dinner honors Ryans for golden milestone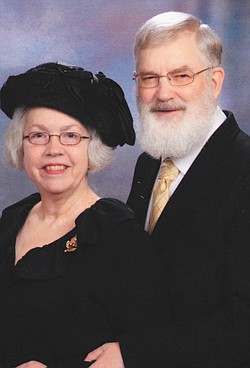 Photo
Mr. and Mrs. Charles Ryan
HUBBARD
Invitations were extended for a family dinner Aug. 11 at The Lake Club in Poland to honor Mr. and Mrs. Charles Patrick Ryan of Hubbard for their golden anniversary. Their children and grandchildren hosted the celebration.
Their children are James Patrick (Ellen) Ryan of Huntsville, Ala., and Jennifer Renee (Steve) Gaydos of Columbiana. Grandchildren are Evan, Finn and Beck Ryan and Alexis and Zack Gaydos.
Mr. Ryan, known as Pat, married the former Betty Baldwin on June 16, 1963, at Highland Presbyterian Church in Canada, Ky.
Mrs. Ryan was a teacher in the Hubbard School system for 24 years and retired in 2003.
Mr. Ryan worked for various area businesses and retired in 2009 from Roemer Industries, where he worked for 17 years. After retiring, he worked for Wal-Mart in Hermitage for two years.
For their anniversary picture, Mr. Ryan grew a beard and Mrs. Ryan wore a hat that belonged to Mr. Ryan's great-grandmother.